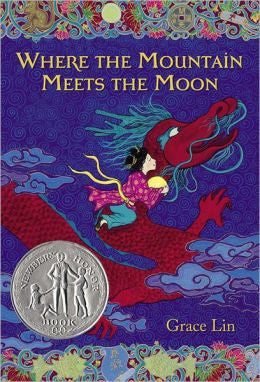 Where the Mountain Meets the Moon by Grace Lin (Paperback) Winner of 2010 Newbery Award Honor
Grace Lin, author of the beloved Year of the Dog and Year of the Rat, returns with a wondrous story of happiness, family, and friendship. A fantasy crossed with Chinese folklore, Where the Mountain Meets the Moon is a timeless adventure story in the classic tradition of The Wizard of Oz.

In the Valley of Fruitless Mountain, a young girl named Minli spends her days working hard in the fields and her nights listening to her father spin fantastic tales about the Jade Dragon and the Old Man of the Moon. Minli's mother, tired of their poor life, chides him for filling her head with nonsense. But Minli believes these enchanting stories and embarks on an extraordinary journey to find the Old Man of the Moon and ask him how her family can change their fortune. She encounters an assorted cast of characters and magical creatures along the way, including a dragon who accompanies her on her quest.
Reading Level: 8-9
*Despite our best efforts to predict the demand for books, the magical spells we use sometimes fail us. So to check if we have the book in-stock before you place your order, contact us at 6702 2452 or drop us an email at myimaginationkingdom@gmail.com
Reviews:
"My five stars might be misleading. I don't think I would have enjoyed this half as much reading it to myself as I did reading it aloud slowly over many nights with an utterly enchanted seven-year-old hanging on every word. It's a magical quest story woven of Chinese folk tales and the author's own imagination, with bits of The Wonderful Wizard of Oz thrown in as well. There are a few passages that are near quotations, apparently an homage to Baum's classic which I'm guessing was a favorite of Lin's as a child. The illustrations, also by Lin, are exquisite."
"We loved this book! Beyond the strength of the characters (Minli in striking out on her own to change her family's fortune, Ba in waiting and loving and hoping, and Ma in learning to seek forgiveness), there was a beauty to the writing that made reading it aloud a joy."
Click here for the original reviews
Related products