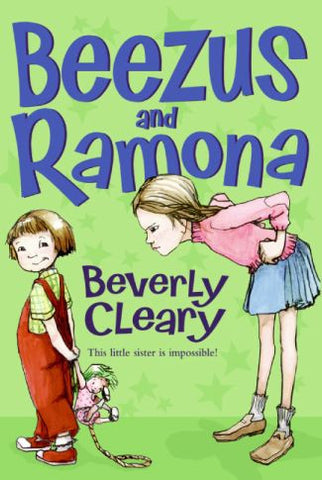 Beezus and Ramona by Beverly Cleary (Paperback)
What's Ramona up to?
Big sister Beezus Quimby tries to be patient with her four-year-old little sister, Ramona, but it isn't easy, not when Ramona powders her nose with marshmallows and invites her nursery school class to a party without telling her family. Sometimes Beezus doesn't like Ramona, but the girls are sisters and that means they will always love each other—just not every single minute.
*Despite our best efforts to predict the demand for books, the magical spells we use sometimes fail us. So to check if we have the book in-stock before you place your order, contact us at 6702 2452 or drop us an email at myimaginationkingdom@gmail.com
Reading Level: 8-9
Reviews:
"Even fifty years later there is no stop to the love of this book, and everyone who has read it can relate to it. In this, you might sympathize with Beezus over the trials and tribulations of little Ramona, act like a pest (as Grown-ups called her) like Ramona, and enjoy the ups and downs of having a little sister. When I was twelve, I was fortunate enough to fly across the country with my family just so we could see the "Ramona Setting" in Portland, Oregon. In tow with all the Beverly Cleary books (although in these days, there were not much) I had, I checked out all of the important points in the books. If you ever go to Portland, OR, take a look at Kickalat Street - it's great!
"I got this as a present for my young niece (who is in grade school). She really liked it, especially since I packaged it with the movie. I really liked the Beverly Cleary books as a kid, and I don't know anyone who didn't."
Click here for the original reviews
Related products