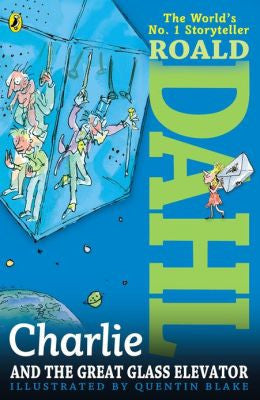 Charlie and the Great Glass Elevator by Roald Dahl (Paperback)
Now that Charlie has won the chocolate factory, what's next? Even wilder adventures, that'swhat! Join him, Grandpa Joe, and, of course, Willy Wonka for the amazing, intergalactic sequel to Charlie and the Chocolate Factory!
*Despite our best efforts to predict the demand for books, the magical spells we use sometimes fail us. So to check if we have the book in-stock before you place your order, contact us at 6702 2452 or drop us an email at myimaginationkingdom@gmail.com
Reading Level: 8-9
Reviews:
"I really enjoyed this book. (It is the sequel to Charlie and the Chocolate Factory.) I liked it better than the first book, which is a first for me! It is full of imagination and original ideas. I really enjoyed it!"
"When I came upon "Charlie and the Great Glass Elevator" I was surprised. Who knew that Dahl had written a sequel to his famous classic kids' novel. I slid the audio CD into my car stereo, and found myself laughing a lot! Wow! Dahl's sequel is as good if not better than his first book. VHugely funny was the dialogue between the grandparents, the arrival of the "Vernicious knids", the President of the United States with his nanny etc. etc. This was a very funny book and I was enjoying it immensely when ........ the CD unfortunately skipped through the entire ending of the novel ...... well, let's say that I had to wait to find out what happened to the 8 very funny main characters. A few months went by, and I happened upon the original novel, and have just finished the last comic bits. Thank you, Dahl for a great ride! The ending is just as good as the rest of it!" 
Click here for the original reviews
Related products