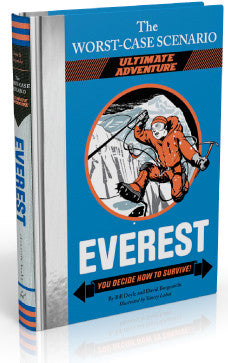 The Worst-Case Scenario Ultimate Adventure Everest: You Decide How to Survive! by Bill Doyle and David Borgenicht (Hardback)
An interactive adventure like no other! On this epic climb up Mount Everest, readers are part of the youngest team ever to climb the world's tallest peak. Only YOU can make the right choice about your own survival and then experience the consequences of those choices. Will you summit Mount Everest and return to base camp safely? Will you be forced to turn back earlyor worse? Only you can determine your own fate! Highly illustrated in comic book style, and based on real, true-life facts about mountain climbing, Mount Everest, and Himalayan culture, this book will be a surefire hit with anyone craving adventure and a fun, visual reading experience.
*Despite our best efforts to predict the demand for books, the magical spells we use sometimes fail us. So to check if we have the book in-stock before you place your order, contact us at 6702 2452 or drop us an email at myimaginationkingdom@gmail.com
Reading Level: 8-9
Reviews:
"I made it! I needed a choose your own adventure style Everest book, so I thank the authors for providing this. I will say that if you are one of those people, like myself, that reads everything, you will have found the directions to read the Expedition File before starting the adventure. This made it pretty easy to make good decisions throughout the book. I did fail to summit once before choosing all of the correct options, but that occasion did not lead to death (YAY!). Fun book!"
"My son loved this book- he said it was "awesome," and "interesting." He liked that he got to make choices with different results and enjoyed learning about Mount Everest. He's already asking to read the other books in this series over the summer."
Click here for the original reviews 
Related products