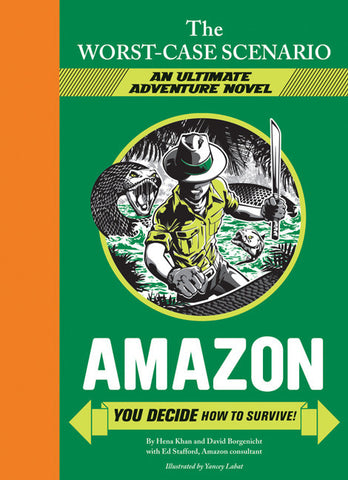 The Worst-Case Scenario Ultimate Adventure Amazon: You Decide How to Survive! by David Borgenicht and Hena Khan (Hardback)
A new thrill ride begins in the Amazon rainforest with the latest novel in the Worst-Case Scenario Ultimate Adventure series! Join an expedition of students exploring the Amazon jungle and face real dangers and decisions. Your choices will determine your fate. Will you survive your encounters with piranhas, tarantulas, mosquitoes, monkeys, and jaguars? Or will you be forced to return home early? Only you can decide how to survive. There are twenty-two possible endings to this adventure, but only ONE leads to ultimate success! Featuring dynamic comic book–style illustrations, and based on real, true-life facts about the Amazon, this story will be a surefire hit with anyone craving a fun, highly visual reading experience.
*Despite our best efforts to predict the demand for books, the magical spells we use sometimes fail us. So to check if we have the book in-stock before you place your order, contact us at 6702 2452 or drop us an email at myimaginationkingdom@gmail.com
Reading Level: 8-9
Reviews:
"I loved this book. It is written for kids, and your goal is to successfully complete a journey along the entire length of the Amazon River. I finished successfully on the first try. I think the characterization is good- there are some characters who are easy-going and some others you kind of want to punch in the face. I have not been to the Amazon but I have been to Costa Rica, so it was at least a somewhat familiar setting. I enjoyed every minute of this book, and then went back to figure out all the possible options (there are many). The illustrations are great too, and I believe this would be a great book for kids of either gender- I would definitely put this into a classroom library."
"Oh my goodness...the kids are going to eat this series up! Especially the boys! I was pleasantly surprised that before I could start the story, I was instructed to flip to the back of the book to read the very short field guide with tips that I needed to remember to survive in the Amazon. I only read for about thirty minutes and met angry bees, found myself dehydrated, and found a poisonous snake under the firewood that I was collecting! I think this series will fly off the shelves!"
Click here for the original reviews 
Related products