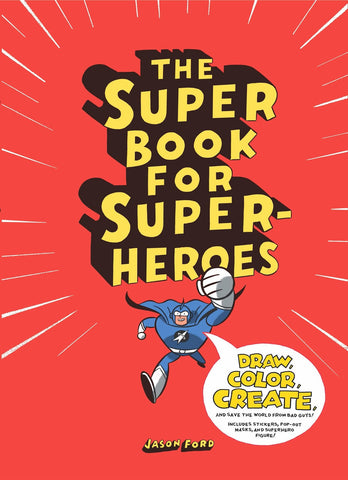 The Super Book for Super Heroes by Jason Ford (Paperback)
The Super Book for Super Heroes is a compendium of ideas, drawing, coloring, and activities that allows you to create your own crusaders for justice who do battle with super villains, unravelling their crazed schemes for taking over the world.

You will learn to draw villains such as the Mad Scientist, Bog Creature, and Evil Robot, while also creating superheroes, their sidekicks, secret hideouts, outfits, and super gadgets. And there are superpowers to discover – such as invisibility, super strength, speed, flight, heat vision, teleportation, and X-ray vision.

This book is a must for anyone wanting to create their own superhero universe!
*Despite our best efforts to predict the demand for books, the magical spells we use sometimes fail us. So to check if we have the book in-stock before you place your order, contact us at 6702 2452 or drop us an email at myimaginationkingdom@gmail.com
Reading Level: 8-9
Reviews:
"The Super Book for Super Heroes" by Jason Ford is an excellent book for kids that will teach them to draw some well-known or new super heroes. At this time of year between Halloween and Christmas is usually a period when children like to pretend that they are the various heroes, monsters or characters from the popular series, and this book provides them even more, inspiring them to invent their own hero.

I didn't heard previously about Jason Ford, but with his new book he created a real candy for eye but what is more important, a book full of inspiration and advice that together with the child's imagination will help her/him in putting on paper some "crazy" creation. On its 130 pages, the author provide kids with the info how to draw and color their heroes, advices how to create their own innovative masks and many other activities like stickers and thought exercises which will occupy the children, but also give them a chance to show their creativity.

However, the best thing that can be found inside are many drawing lessons that will help young author to draw heroes, their weapons and vehicles not only in a static form, but while running, flying, firing super cool guns or some other amazing action. Ford provides solid foundation for kid to draw her/his first comic book and additionally he encourages kids to do that by providing few empty comic panels near the end of the book. Overall, whether you are looking for a book that can provide some fun for the child or want to help your kid start "shaping" her/his talent into something concrete, this book can be fully recommended.
Click here for the original review
Related products