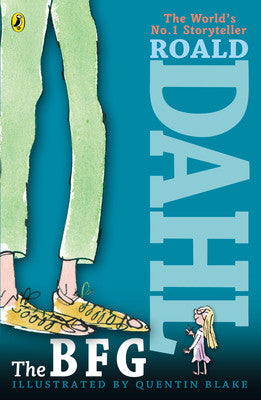 The BFG by Roald Dahl (Paperback)
Captured by a giant! The BFG is no ordinary bone-crunching giant. He is far too nice and jumbly. It's lucky for Sophie that he is. Had she been carried off in the middle of the night by the Bloodbottler, the Fleshlumpeater, the Bonecruncher, or any of the other giants-rather than the BFG-she would have soon become breakfast.

When Sophie hears that they are flush-bunking off in England to swollomp a few nice little chiddlers, she decides she must stop them once and for all. And the BFG is going to help her!
*Despite our best efforts to predict the demand for books, the magical spells we use sometimes fail us. So to check if we have the book in-stock before you place your order, contact us at 6702 2452 or drop us an email at myimaginationkingdom@gmail.com
Reading Level: 8-9
Reviews:
"I loved this book when I re-read it about a month ago just as much as I loved it when my third-grade teacher read it aloud to my class seventeen years ago. The Big Friendly Giant himself is charming, and I have always loved the cameo appearance of a certain very famous Brit. (I would love to know this person's opinion of the story, too - I personally would be delighted in their shoes.)"
"I first found this book in about 2nd grade at my school Library. I borrowed it since I'd read most of Roald Dahl's other children's books and had my dad read it to me. Let me point out that my father is the best story-teller/reader. He does voices for everyone and he has this great English accent that is perfect for Roald Dahl books. I fell in love with the simple giant who has deep insights, the wonderful adventures, the dream collecting, the possibility of little girls doing great things, and the fact that this book let my imagination run wild, plus I love silly words. I subsequently borrowed it every year until my father finally bought me a copy. I still pull this book out when I want something fun to read."
Click here for the original reviews
Related products