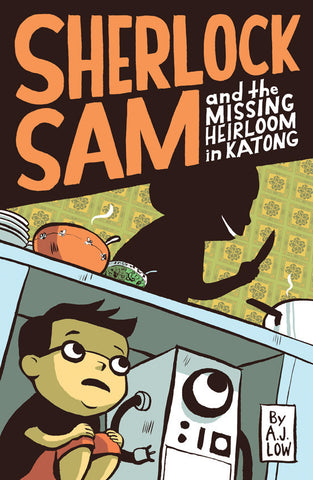 Sherlock Sam and the Missing Heirloom in Katong: Book #1 by A.J. Low (Paperback) Winner of Red Dot Book Award 2013-2014
Winner of Red Dot Book Awards 2013-2014, Younger Readers' Category, 1st Place
Selected for National Library Board's READ! Singapore 2014
Meet Sherlock Sam, Singapore's greatest kid detective. With his trusty robot Watson, Sherlock Sam will stop at nothing to solve the case, no matter how big or small!
In Sherlock Sam and the Missing Heirloom in Katong, Auntie Kim Lian's precious Peranakan cookbook disappears, and Sherlock Sam cannot eat her delicious ayam buah keluak anymore! Will Sherlock Sam be able to use his super detective powers to find this lost treasure?
*Despite our best efforts to predict the demand for books, the magical spells we use sometimes fail us. So to check if we have the book in-stock before you place your order, contact us at 6702 2452 or drop us an email at myimaginationkingdom@gmail.com
Reading Level: 8-9
Reviews:
"I won this from Goodreads for my kids. The book is best for 3rd grade readers, but my 10 and 13 yr old kids read it and this is what they thought. The book is really funny and the mystery is good since they didn't figure out the ending. They both liked the main character and the humor. The book is set in Singapore, so that's interesting as well."
"Good candidate for our Red Dot Book Awards - younger readers category. Not only is it set in Singapore, but it features a public library (one many of my students probably go to -- at Marine Parade). Also thinking that the Grade 3s do a unit on mysteries which this would be good for. Sequels as well. Like how there's a glossary at the back."
Click
here
for the original reviews
Related products