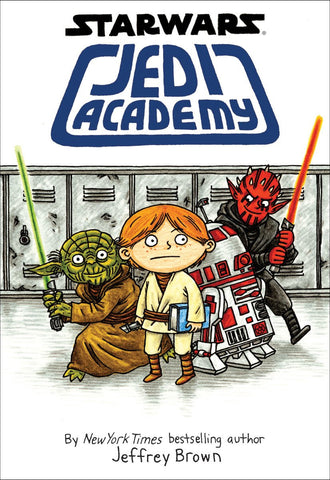 Star Wars Jedi Academy #1: Jedi Academy by Jeffrey Brown (Hardback)
New York Times bestselling author/illustrator Jeffrey Brown takes readers to a middle school in a galaxy far, far away...

This incredible, original story captures all of the humor, awkwardness, fun, and frustrations of middle school--all told through one boy's comics, journal entries, letters, doodles, and newspaper clippings. The setting? A galaxy far, far away...

Roan's one dream is to leave home and attend Pilot Academy like his older brother, father, and grandfather. But just as Roan is mysteriously denied entrance to Pilot School, he is invited to attend Jedi Academy--a school that he didn't apply to and only recruits children when they are just a few years old. That is, until now...

This inventive novel follows Roan's first year at Jedi Academy where, under the tutelage of Master Yoda, he learns that he possesses more strength and potential than he could have ever dreamed. Oh, and he learns other important things too--like how to make a baking soda volcano, fence with a lightsaber, slow dance with a girl, and lift boulders with the Force.
*Despite our best efforts to predict the demand for books, the magical spells we use sometimes fail us. So to check if we have the book in-stock before you place your order, contact us at 6702 2452 or drop us an email at myimaginationkingdom@gmail.com
Reading Level: 8-9
Reviews:
"This is a good natured graphic novel that is set in the Star Wars universe. Roan wants to be a pilot but he is not accepted into the pilot academy. He is accepted into the Jedi Academy and this is a journal of his first year. This book is like any story of a child going away for school but it takes place in a galaxy far, far away.

I enjoyed this book so much as it details Roan making new friends, his classes and his first crush. The artwork and the text looks like it is from an actual child and this aspect adds enjoyment to the book as you see it through his eyes. Fans of this universe will recognize all the different creatures and droids as well as Yoda who plays a prominent role as a teacher. I could not stop laughing as Roan could not tell if Yoda was serious because he laughs all of the time. There were many other details that were just as amusing and reading this book left me with a warm fuzzy feeling.

You do not have to be a fan of this universe to enjoy this book as it doesn't delve too much into its lore. In fact, I believe children and adults will enjoy this book because it explores the experience of attending school. "
"Awww. This is a backstory to Star Wars that many fans and non-fans can enjoy. Luke wants to be a pilot, but ends up in Jedi Academy instead, circa age 11. So, you know, Space Potter, kind of. Fun stuff, and realistic about the difficulties of being away from home and in a new school."
Click here for the original reviews 
Related products