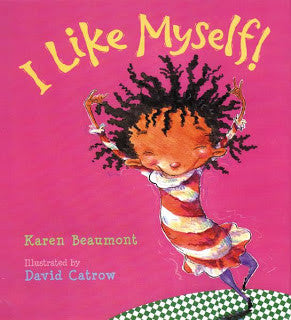 I Like Myself by Karen Beaumont (Hardback)
High on energy and imagination, this ode to self-esteem encourages kids to appreciate everything about themselves--inside and out. Messy hair? Beaver breath? So what! Here's a little girl who knows what really matters.
At once silly and serious, Karen Beaumont's joyous rhyming text and David Catrow's wild illustrations unite in a book that is sassy, soulful--and straight from the heart. 
*Despite our best efforts to predict the demand for books, the magical spells we use sometimes fail us. So to check if we have the book in-stock before you place your order, contact us at 6702 2452 or drop us an email at myimaginationkingdom@gmail.com
Reading Level: 4+
Reviews:
This book should be soaked up by parents everywhere. What a beautiful world this would be if all adults had the self-confidence of the little girl in I Like Myself! The illustrations are wonderful and the rhyme is divine. Treat yourself to a splendid book and give yourself a big hug and say, "I like myself!"
As a mother of two who teaches, and received a bachelor's degree in literature, this is one of the first children's books I have come across that I can recommend without reservation. Even though the story is about a girl, my sons love it! It's wonderfully illustrated, and when we read it, we giggle at the pictures and the silly ideas. The best thing about this book is that through the silliness the words reinforce a message about self-esteem that cannot be repeated enough! They love it, I love it!

Click here for the original reviews
Related products