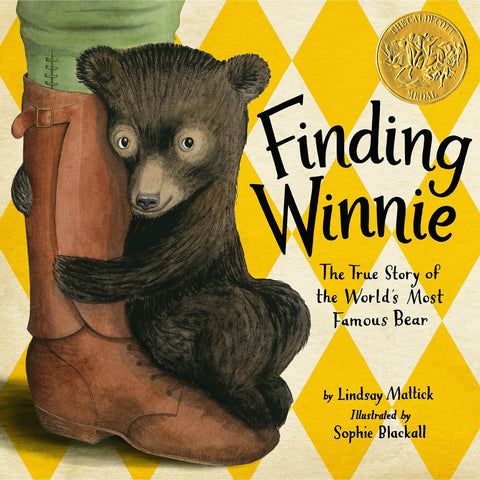 Finding Winnie: The True Story of the World's Most Famous Bear by Lindsay Mattick (Hardback) Winner of 2016 Caldecott Medal
Before Winnie-the-Pooh, there was a real bear named Winnie.

In 1914, Harry Colebourn, a veterinarian on his way to tend horses in World War I, followed his heart and rescued a baby bear. He named her Winnie, after his hometown of Winnipeg, and he took the bear to war.

Harry Colebourn's real-life great-granddaughter tells the true story of a remarkable friendship and an even more remarkable journey--from the fields of Canada to a convoy across the ocean to an army base in England...

And finally to the London Zoo, where Winnie made another new friend: a real boy named Christopher Robin.

Here is the remarkable true story of the bear who inspired Winnie-the-Pooh.
*Despite our best efforts to predict the demand for books, the magical spells we use sometimes fail us. So to check if we have the book in-stock before you place your order, contact us at 6702 2452 or drop us an email at myimaginationkingdom@gmail.com
Reading Level: 4+
Reviews:
"Utterly charming. I loved the story within a story, and the album at the end with real photographs of Winnie, Harry, and Christopher Robin. The art is utterly charming, and best of all, it's a story you can actually read to a small child! Too often nonfiction picture books are far too wordy and dry, and you lose the child's attention after one page. But here there was just the right balance of well-placed, age-appropriate words and pictures. Lovely book!"
"The illustrations are wonderfully expressive and full of detail, but the story is what stole my heart. I like the way this story is told as a story and when authentic family photos are incorporated it was even better! In this story a bear cub is bought from a trapper for $20 by a solider on his way to a WWI training camp. Coming from Winnipeg, Canada it's only natural that the little bear was named Winnie. The bear becomes the mascot of the troop and is with his new owner day and night. But as Winnie grows older and larger it is no longer easy to care for her. When the troops leave for the battlefield, Winnie is placed in a zoo. It is in the zoo that Winnie is befriended by Christopher, son of A.A. Milne ... you can probably guess the outcome. I thought Winnie was so tame because of her early upbringing around all the soldiers. Included in the scrapbook photos was a picture of Christopher in the bear's enclosure ... feeding him while his father observed from a distance! Love this story <3"
Click
here
for the original reviews
Related products