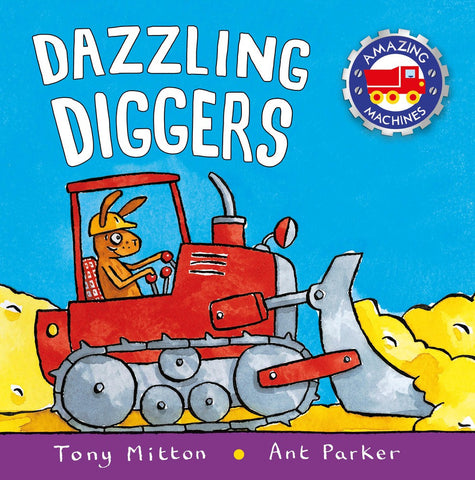 Amazing Machines: Dazzling Diggers by Tony Mitton (Paperback)
Diggers are noisy, strong, and big. Diggers can carry and push and dig. Diggers have shovels to scoop and lift, blades that bulldoze, shunt, and shift. Sloshing and squelching, and smashing and bashing, the construction machinery does its work - manned by a friendly animal gang - in this lively picture book. Young children will adore it as will the adults who get to read aloud these irresistible rhymes!
*Despite our best efforts to predict the demand for books, the magical spells we use sometimes fail us. So to check if we have the book in-stock before you place your order, contact us at 6702 2452 or drop us an email at myimaginationkingdom@gmail.com
Reading Level: 4+
Reviews:
"This book describes what each of the working machines does and even more interesting they are driven by animals. It is bright and colorful with a lot of noisy sound that we could make outdoors using some of these diggers."
"Children love rhyming and and it is a fun way to help children learn new words with their meanings. This book has great illustrations and explains to children different functions of construction machines. The glossary further helps children understand the different parts of machines and theur specific functions."
Click here for the original reviews
Related products