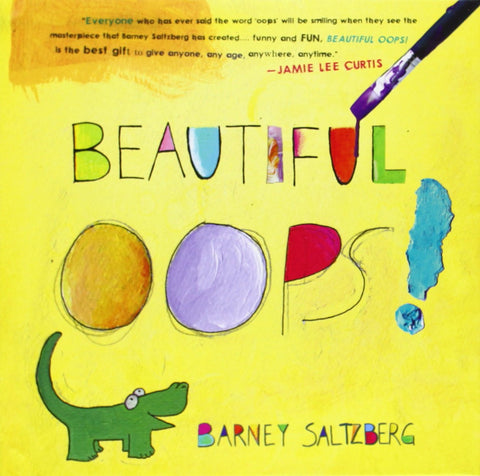 Beautiful Oops by Barney Saltzberg (Hardback)
A life lesson that all parents want their children to learn: It's OK to make a mistake. In fact, hooray for mistakes! A mistake is an adventure in creativity, a portal of discovery. A spill doesn't ruin a drawing—not when it becomes the shape of a goofy animal. And an accidental tear in your paper? Don't be upset about it when you can turn it into the roaring mouth of an alligator.

Barney Saltzberg, the effervescent spirit behind Good Egg, offers a one-of-a-kind interactive book that shows young readers how every mistake is an opportunity to make something beautiful. A singular work of imagination, creativity, and paper engineering, Beautiful Oops! is filled with pop-ups, lift-the-flaps, tears, holes, overlays, bends, smudges, and even an accordion "telescope"—each demonstrating the magical transformation from blunder to wonder.

The smudge becomes the face of a bunny, a crumpled ball of paper turns into a lamb's fleecy coat—celebrate the oops in life. 
*Despite our best efforts to predict the demand for books, the magical spells we use sometimes fail us. So to check if we have the book in-stock before you place your order, contact us at 6702 2452 or drop us an email at myimaginationkingdom@gmail.com
Reading Level: 4+
Reviews:
"Beautiful Oops is a delightful read for both babies and adults. The unusual artistic format of doors, windows, and unfolding paper creations will surprise, entertain, and challenge readers to think differently about mistakes. Don't miss out on this simple yet important lesson; Beautiful Oops is a beautiful read."

"My 2-year-old daughter and I have read this book approximately 1 million times in the past year. At first she simply enjoyed the interactivity of opening flaps and looking through holes, but as she has grown older she comments on the way that Saltzberg uses illustrations to change the "oopses" into something new. My daughter is an artistic kid and also a budding perfectionist - a trying combination for someone still developing fine motor skills, so we talk a lot about the beautiful oopses she makes and how she can turn them into something new. She also like to find oopses in other places and create something from them.

One recommendation - even though this book is completely appropriate for children, some of the interactive pages can get torn - so supervision is probably a good idea until they are old enough to explore it carefully on their own."

Click here for the original reviews
Related products