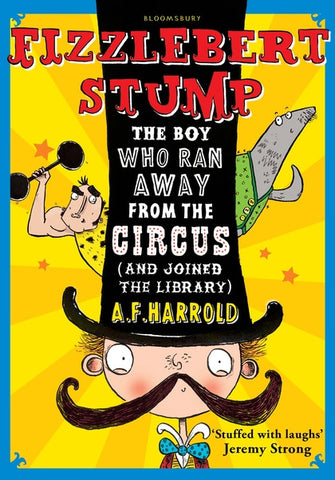 Fizzlebert Stump: The Boy Who Ran Away From The Circus (and joined the library) by A.F. Harrold
'There are many boys in the world, all slightly different from one another, and most of them are referred to by names. These are often John or Jack or Desmond, but sometimes they are James or Philip or Simon. Once, and once only, there was a boy whose name was Fizzlebert.'

Fizzlebert Stump lives in a travelling circus. But although he gets to hang around with acrobats, play the fool with clowns, and put his head in a lion's mouth every night, he's the only kid there - and he's bored. But then Fizz decides to join a library, and life suddenly gets a lot more exciting, when a simple library card application leads to him being kidnapped by a pair of crazed pensioners! Will he ever see the circus again?
*Despite our best efforts to predict the demand for books, the magical spells we use sometimes fail us. So to check if we have the book in-stock before you place your order, contact us at 6702 2452 or drop us an email at myimaginationkingdom@gmail.com
Reading Level: 8-9
Reviews:
"Fizzlebert (Fizz) stump has the life that many children dream of. He lives in a travelling circus with his Mum (a clown) and his Dad (the strong man), and is home Schooled by some of some of the circuses more eccentric performers, including his psychic French teacher who does not even speak French! But there is one thing missing – friends his own age.
One day after a performance (which involves him putting his head in the mouth of a lion with rubber dentures) Fizz meets some local kids who initially want to be his friends, but turn mean once they hear his name is Fizzbert. Before they leave one of them drops a Library book that is due for return, and Fizz decides to return it. His visit to the local Library turns into an adventure which includes smelly pretend Grandparents, kidnapping, and a bloodhound sea lion!

I liked this book, but more importantly my 11 year old son liked it. The story is fast moving, interesting, and the author's comedic commentary makes it fun to read. I enjoyed the illustrations by Sarah Horne and thought they complimented the story well. My son and I are both looking forward to reading the second book in this series, Fizzlebert Stump and the Bearded Boy. I would gladly recommend this book for 8-12 year olds."
"MissMarkey gave me this to read while I'm at her place as the author is one of the authors doing a talk at the Oxford convention. I thoroughly enjoyed the book, and it reminded me a bit of 'The Twits'!"

Click here for the original reviews
Related products