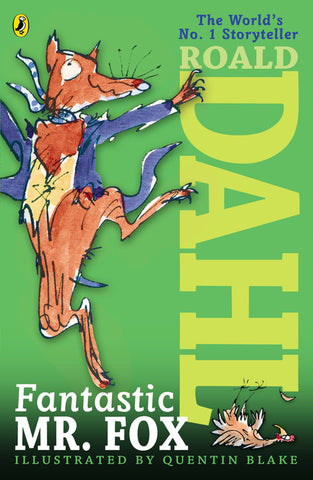 Fantastic Mr Fox by Roald Dahl (Paperback)
Fantastic Mr. Fox is on the run! The three meanest farmers around are out to get him. Fat Boggis, squat Bunce, and skinny Bean have joined forces, and they have Mr. Fox and his family surrounded. What they don't know is that they're not dealing with just any fox–Mr. Fox would never surrender. But only the most fantastic plan ever can save him now.
*Despite our best efforts to predict the demand for books, the magical spells we use sometimes fail us. So to check if we have the book in-stock before you place your order, contact us at 6702 2452 or drop us an email at myimaginationkingdom@gmail.com
Reading Level: 8-9
Reviews:
"Fantastic Mr Fox exhibits the very best of Roald Dahl as we see Mr Fox battle against the three mean farmers: Boggis, Bunce and Bean. Initially Mr. Fox has no problem in taking poultry from the farms to feed his family; however, Boggis, Bunce and Bean soon develop a plan that'll end their fox problem once and for all. The evil trio plan to dig Mr Fox out of his home and soon recruit all their staff to their mission. However, not to be outdone, the canine simply tunnels underground to each of the three farmer's farms to help himself to a banquets worth of food for his family and all the neighbouring animals who have been suffering as a result of the farmers digging mission.

The book features typical use of unflattering adjectives to describe villains, as well as the humorously crude drawings of them also. The book will make children laugh whilst also teaching them the valuable lessons of the importance of family and how to stay resilient under pressure. This book would be best utilised as independent reading for children of the age of six and upwards, although the story and vocabulary is accessible to children younger if being read by a teacher or carer."
"Read it in one day to my four year old. He was fascinated and wide eyed the entire time. Then, at dinner he called his juice "strong cider" and talked about how it made his mouth and belly burn :)."
Click here for the original reviews
Related products