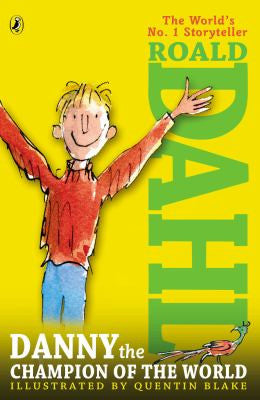 Danny the Champion of the World by Roald Dahl (Paperback)
Danny's life seems perfect: his home is a gypsy caravan, he's the youngest car mechanic around, and his best friend is his dad, who never runs out of wonderful stories to tell. And when Danny discovers his father's secret, he's off on the adventure of a lifetime. Here's Roald Dahl's famous story about a 9-year-old boy, his dad, and a daring and hilarious pheasant-snatching expedition. Just as important, it's the story of the love between a boy and his father who, in Danny's own words, is "the most marvelous and exciting father a boy ever had."
*Despite our best efforts to predict the demand for books, the magical spells we use sometimes fail us. So to check if we have the book in-stock before you place your order, contact us at 6702 2452 or drop us an email at myimaginationkingdom@gmail.com
Reading Level: 8-9
Reviews:
"Oddly to some, this still stands as my favorite Roald Dahl book. It's hard for me to pinpoint why, since it's my opinion and I hate examining my opinions too closely, but to take a swing at it. It's one of the least zany of Dahl's books, which ultimately gives it staying power. With many of his other works, you get caught up in the wacky characters, situations, and goings ons and it's hard to take them as seriously once you get a little bit older and gain a little bit of sophistication. However, DTCOTW (wow, won't be writing that again) contains some of Dahl's best pure writing as the author beautifully and at times almost lyrically describes the relationship between Danny and his father. I think this book very often gets overlooked and I think that's a shame, because it's so very good."
"This is one of the sweetest books in the entire world. Danny and his father live in a little gypsy caravan behind the filling station where they work. Danny's Mum died ages ago and it's just the two of them and they are very happy together.

Then one day his Dad tells him about poaching, and how exciting it is. He teaches Danny the best ways to steal birds off the mean rich man's land and they hatch a plan to steal ALL of them the night before the big hunt to humiliate the mean rich man. But things don't run smoothly and they end up having to improvise (with the help of half the town, also in on the poaching game).

I loved reading this with my little girl. Danny and his Dad are best friends and have the best conversations and interactions. It was funny and sweet and we both loved it. It's been my favorite Dahl book we've read together. I kept thinking about how Roald's father died when he was very small and how he never knew him at all, and I wondered if this father and Danny were exactly what Dahl wished he had.

This was a lovely little book."
Click here for the original reviews
Related products