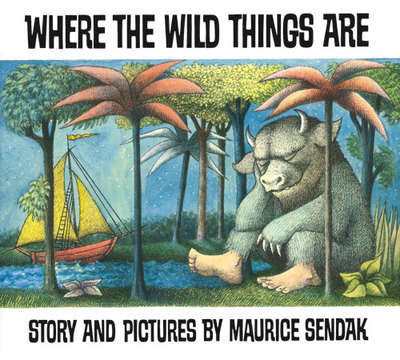 Where The Wild Things Are by Maurice Sendak (Paperback) Winner of 1964 Caldecott Medal
Where the Wild Things Are is one of those truly rare books that can be enjoyed equally by a child and a grown-up. If you disagree, then it's been too long since you've attended a wild rumpus. Max dons his wolf suit in pursuit of some mischief and gets sent to bed without supper. Fortuitously, a forest grows in his room, allowing his wild rampage to continue unimpaired. Sendak's color illustrations (perhaps his finest) are beautiful, and each turn of the page brings the discovery of a new wonder.
The wild things--with their mismatched parts and giant eyes--manage somehow to be scary-looking without ever really being scary; at times they're downright hilarious. Sendak's defiantly run-on sentences--one of his trademarks--lend the perfect touch of stream of consciousness to the tale, which floats between the land of dreams and a child's imagination.
This Sendak classic is more fun than you've ever had in a wolf suit, and it manages to reaffirm the notion that there's no place like home.
*Despite our best efforts to predict the demand for books, the magical spells we use sometimes fail us. So to check if we have the book in-stock before you place your order, contact us at 6702 2452 or drop us an email at myimaginationkingdom@gmail.com
Reading Level: 4+
Reviews:
"Of all the books I read my kids, and there are many, this is my favourite to perform. It is so easy to turn Where The Wild Things Are into a a big, rollicking tickle fest, and I am never able to resist the urge. When those Wild Things show up with their "terrible roars" and "terrible eyes" and "terrible claws," I attack my kids with everything I've got until they are reduced to quivering masses of giggled out jelly. And Max, the King of the Wild Things, is one of the coolest kids in any kids book ever. Sure he's being too much of a "Wild Thing," which gets him sent to bed, but he's not your modern kid. There's no brattiness and entitlement. Just a cool kid getting a little crazy on fun before being sent off to bed and a great adventure in his dreams.

And when he comes back from his adventure he finds his dinner waiting for him...and it's still hot. Super cool fun for you and your kids."
"It's hard to believe I never read this book as a child, but it's true. I'm glad to read it as an adult, when I can fully appreciate Sendak's artwork and subtle humor. This is a children's book that truly deserves every accolade and award showered upon it. It has a home in our permanent library now, for any child that comes along to enjoy."

Click here for the original reviews
Related products