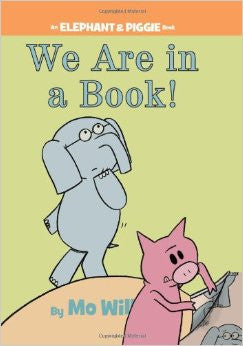 Elephant & Piggie #13: We are in a Book! by Mo Willems (Hardback)
Gerald is careful. Piggie is not. Piggie cannot help smiling. Gerald can.

Gerald and Piggie are best friends.

In We Are in a Book! Gerald and Piggie discover the joy of being read. But what will happen when the book ends?

Using vocabulary perfect for beginning readers (and vetted by an early-learning specialist), Mo Willems has crafted a mind-bending story that is even more interactive than previous Elephant & Piggie adventures. Fans of the Geisel Award-winning duo won't be able to put this book down--literally!
*Despite our best efforts to predict the demand for books, the magical spells we use sometimes fail us. So to check if we have the book in-stock before you place your order, contact us at 6702 2452 or drop us an email at myimaginationkingdom@gmail.com
Reading Level: 2+
Reviews:
"Although my 2 yr old twins weren't old enough to appreciate the story, they still enjoyed the pictures. And my 5 yr old absolutely loved the story. We read a lot, but this was the first time we read a story with the characters talking to us. It was a novel idea for him and his eyes shown with the excitement of it. The pig and elephant were adorable, and I was struck by how many books Mo Willems actually has out! There are so many! When the pig asked us if we'd read the book again, we all answered a resounding, "Yes!"
"I can think of no greater tribute to the joy of reading than a book that invites the reader to step inside of it and interact one-on-one with the characters. As Willems has done previously in the Pigeon books, he creates a wonderful read-aloud experience for kids reading to the adults in their lives, as well as for adults, like me, who read to kids on a regular basis.

This is my absolute favorite Elephant & Piggie book, and it will be really hard for any others in the future to live up to it!"
Click here for the original reviews
Related products