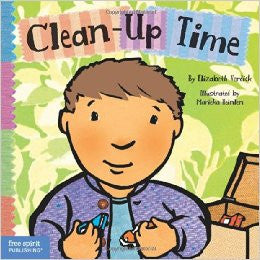 Best Behaviour Series: Clean-Up Time by Elizabeth Verdick (Board Book)
Toddlers will look forward to clean-up time with this simple rhyming book that encourages them to chant along as they tidy up. Young children learn to work together to put items in their place, make a neater space, keep a smile on their face—and make room for more fun. Delightful illustrations enhance the text.

An award-winning author/illustrator team offers a fresh look at the times and transitions all toddlers face daily, giving young children the tools to handle routines with confidence and cooperation.

Part of the Toddler Tools series, Clean-Up Time can be shared before (or during) the desired "time," or whenever toddlers need encouragement with routines. Includes tips for parents and caregivers.
*Despite our best efforts to predict the demand for books, the magical spells we use sometimes fail us. So to check if we have the book in-stock before you place your order, contact us at 6702 2452 or drop us an email at myimaginationkingdom@gmail.com
Reading Level: 2+
Reviews:
"Clean Up Time is a good book to share with toddlers when teaching them how to clean up. The rhyming text is simple enough for toddlers to understand, and the illustrations are nicely done. On each page, the children are smiling. This gives kids a sense that clean-up can be fun.

At the end of the book there are some tips for parents and caregivers for helping a little one clean up. I like the emphasis on making it quick and fun. Who likes long boring clean-ups? Certainly not any toddler I know!

While toddlers may not want to sit down and read this book at story time, Clean up Time is a useful tool that can be used to encourage them to clean up. I recommend it for kids ages 2-4."
"I LOVE this book series. My granddaughter loves books and these are always her first 'go to' when she wants to read. Thanks to the author for a very well written series that actually teaches toddlers!"
Click here for the original reviews
Related products