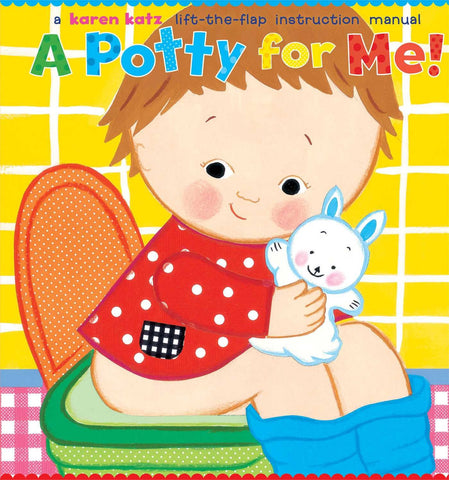 A Potty for Me! by Karen Katz (Board Book)
Mommy got me a brand new potty!
But I'm not ready yet!
I want to run and play.
Uh-oh, I peed in my pants.
But Mommy says, "That's okay!"
Children will love following along and lifting the flaps to see the child play, sit on the potty, eat, sit on the potty, sleep, and then sit on the potty...until finally there is success.
Written from a child's point of view, this new potty-training book will help children join in the final refrain, "I'm so proud of me!"
*Despite our best efforts to predict the demand for books, the magical spells we use sometimes fail us. So to check if we have the book in-stock before you place your order, contact us at 6702 2452 or drop us an email at myimaginationkingdom@gmail.com
Reading Level: 2+
Reviews:
"Better of the potty books I have gotten my niece. My niece thinks Karen Katz books are the bomb. She loves looking at them the most out of her book stash. The colors and baby and mama images, everything is done so very kid friendly. The pages are nice, she won't be tearing them as she flips them out as in most books. This book has the stages just like a real baby/toddler would go through and so far this is the best potty book for my baby girl."
"I absolutely loved reading this book to my little boy when he was potty training. The pictures are big bold and colorful. Every page has another surprise fold out page that is fun for little ones to open up. The story puts potty anxiety at ease. He says,"mommy says it's okay if I got wet today". The ending is magnificent because the boy is potty trained, and it shows a big picture of his face. At last, he says, "I am so proud of me!"
Click here for the original reviews
Related products