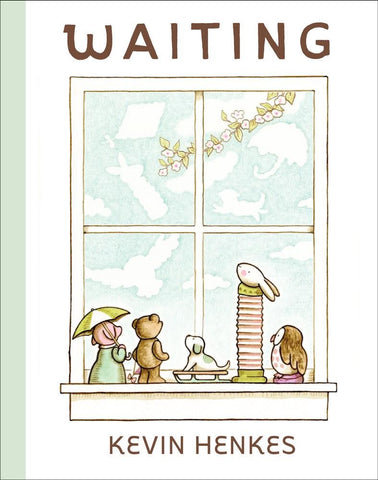 Waiting by Kevin Henkes (Hardback) Winner of 2016 Caldecott Honor
What are you waiting for? An owl, a puppy, a bear, a rabbit, and a pig—all toys arranged on a child's windowsill—wait for marvelous things to happen in this irresistible picture book by the New York Times–bestselling and Caldecott Medalist Kevin Henkes.

Five friends sit happily on a windowsill, waiting for something amazing to happen. The owl is waiting for the moon. The pig is waiting for the rain. The bear is waiting for the wind. The puppy is waiting for the snow. And the rabbit is just looking out the window because he likes to wait! What will happen? Will patience win in the end? Or someday will the friends stop waiting and do something unexpected?

Waiting is a big part of childhood—waiting in line, waiting to grow up, waiting for something special to happen—but in this book, a child sets the stage and pulls the strings. Timeless, beautiful, and deeply heartfelt, this picture book about imaginative play, the seasons, friendship, and surprises marks a new pinnacle in Caldecott Medalist Kevin Henkes's extraordinary career.
*Despite our best efforts to predict the demand for books, the magical spells we use sometimes fail us. So to check if we have the book in-stock before you place your order, contact us at 6702 2452 or drop us an email at myimaginationkingdom@gmail.com
Reading Level: 4+
Reviews:
"A new picture book release by Kevin Henkes is reason for celebration. Soft and gentle, Waiting feels like a loved one just gave you a warm glass of milk and tucked you in you bed while humming a sweet tune. A comforting and hopeful read."
"The pictures in this book made me smile. And I laughed when the cat was introduced and we found out what she was waiting for. Soft and gentle, this book is one about the things we wait for, and our attitudes while we wait. I think my favorite character was the bunny who just liked waiting to see what would happen next, regardless of what we are waiting for."

Click here for the original reviews
Related products