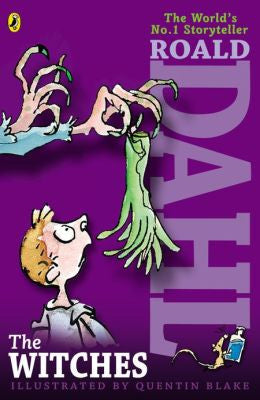 The Witches by Roald Dahl (Paperback)
This is not a fairy-tale. This is about REAL WITCHES. Real witches don't ride around on broomsticks. They don't even wear black cloaks and hats. They are vile, cunning, detestable creatures who disguise themselves as nice, ordinary ladies. So how can you tell when you're face to face with one? Well, if you don't know yet you'd better find out quickly-because there's nothing a witch loathes quite as much as children and she'll wield all kinds of terrifying powers to get rid of them. Ronald Dahl has done it again! Winner of the 1983 Whitbread Award, the judges' decision was unanimous: "funny, wise, deliciously disgusting, a real book for children. From the first paragraph to the last, we felt we were in the hands of a master".
*Despite our best efforts to predict the demand for books, the magical spells we use sometimes fail us. So to check if we have the book in-stock before you place your order, contact us at 6702 2452 or drop us an email at myimaginationkingdom@gmail.com
Reading Level: 8-9
Reviews:
"This is a dark-edged children's tale about a group of witches who despise children who they believe smell like "dogs droppings". These witches don't hold back their hatred for these "small piles of filth" and at their annual meeting they devise a plan to rid the earth of these vomit inducing creatures by turning them into mice and exterminating them. What they haven't planned on is the ingenuity of one brave little boy who overhears their dastardly plans and does his best to thwart them.

This book is a lot of fun and though it portrays witches in a pretty bad light it's not all anti-women and is all in good fun. Grandmamma is a fantastic character, described as a "tough old bird", she smokes cigars and I can't help but think it's her influence alone that has made the hero of this tale such a brave, clever little guy."
"I'll be honest. My boys and I LOVE Roald Dahl books. All of them. Rather than review this book in my predictably gushy manner, I thought I would tell you a funny story that happened during our nightly reading sessions...

For those unfamiliar with the story, a grandmother is instructing her grandson on the multiple ways one might recognize a witch in disguise. While giving this info to my eight year old, he checked me over to confirm that I was indeed, not a witch. When he heard they wore itchy wigs, he checked my hair line. He investigated my toes and fingers for cat like claws and block like feet without toes.I thought I'd passed inspection, but a few days later, I caught him staring deeply into my eyes. (There had been a mention of a witches pupils being multicolored.) After a good hard look, he pronounced that I was definitely not a witch--I didn't have multicolored NIPPLES. I corrected him and indicated that he meant PUPILS. His response was...whatever...it's the same thing.

And there you have folks." 
Click here for the original reviews
Related products