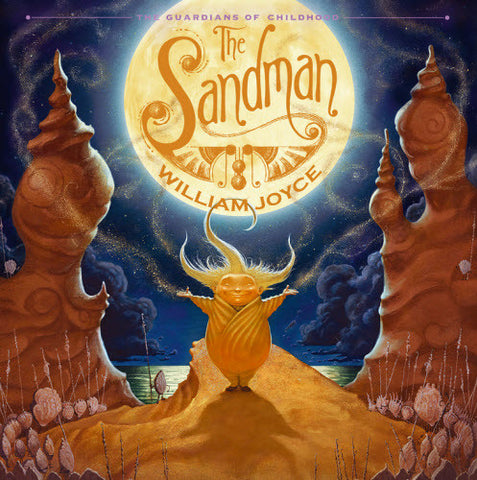 The Sandman: The Story of Sanderson Mansnoozie (The Guardians of Childhood) by William Joyce (Hardback)
The second picture book in Academy Award winner William Joyce's The Guardians of Childhood series, The Sandman tells the true story of the keeper of dreams.

One foggy night, the Man in the Moon has a startling thought: When the moon is less than full and bright, who will keep children safe at night? He needs a backup plan! Or a backup Guardian, as it were. His keen eye falls upon a sleepy little fellow living on a sleepy little island who is a sweet-dreamer extraordinaire. Since good dreams always trump bad ones, this means Pitch, the Nightmare King, will be further thwarted in his nefarious quest to terrorize children. Indeed, Sanderson Mansnoozie seems the perfect choice. But there are two problems. Firstly, given that Sandy has never had a bad dream, how can MiM convince him how important this new role is to the happy-being of children everywhere? And secondly, how can MiM keep this snoozy ally awake long enough to help?

This follow-up to the New York Times bestselling The Man in the Moon, called "dazzlingly inventive" by Publishers Weekly, introduces us to the sleepy little fellow to whom we all owe many a good nights' rest, the second Guardian of Childhood, the Sandman.
*Despite our best efforts to predict the demand for books, the magical spells we use sometimes fail us. So to check if we have the book in-stock before you place your order, contact us at 6702 2452 or drop us an email at myimaginationkingdom@gmail.com
Reading Level: 7+
Reviews:
"The sandman is the newest addition to the book series and by far one of the easiest to fall in love with. This is a great take on the sand man myth and this book has some of the most beautiful illustrations. A must have to read to your children. They will love it!"

"An interesting look into a character that usually seen to be a weird man in pajamas that throws sand into children's eyes. It is a beautiful story with detailed art and should be added to any child's collection"
Click here for the original reviews
Related products