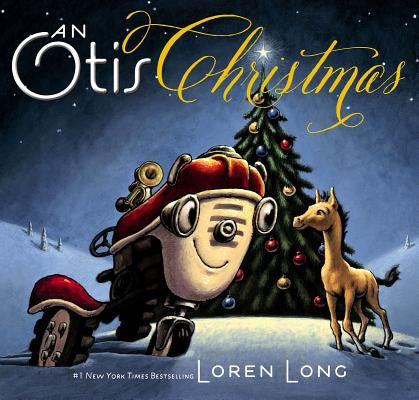 An Otis Christmas by Loren Long (Hardback)
For boys who love trucks and machines, Otis would be a new friend that they will grow to love. Otis, a little tractor is looking forward to welcoming Christmas with his friends on the farm. With the tree decorated and Otis receiving his shiny new horn as a Christmas present, the mood cannot be better. But alas, one of the farm's horses, Otis' friend is about to deliver in the middle of the night and who else but our dear Otis comes to the rescue! This beautiful story about how a tractor saves the day (or night :) will keep both big ones and little ones smiling till the very end.
*Despite our best efforts to predict the demand for books, the magical spells we use sometimes fail us. So to check if we have the book in-stock before you place your order, contact us at 6702 2452 or drop us an email at myimaginationkingdom@gmail.com 
Reading Level: 7+
Reviews:
"Oh, Otis ... I never thought we would appreciate stories about a friendly little tractor as much as we do when we find an Otis book.

Otis' Christmas is meaningful, yet full of anticipation and worry for the horse having difficulty with her labour. I wont spoil the ending but I will point out how much care is taken by Loren Long to craft a few simple messages of gift giving, prayer, hope and a real sense of love throughout the story.

I have a fondness for Otis developing with each story.

The illustrations have a magical way of transporting the reader right into the story!

Oh, Otis..."

"I like to have a few Christmas books in our library -- okay, a LOT -- and every year we add some more. This is one we added this year.

I read it to my 5 year old son, and he was excited that Otis got a present, straight away at the beginning of the story. Then, Otis makes a daring decision, and helps to bring a new baby to his barn. When we got to the point where the author reveals the special baby, my son said (without any prompting or clues!), "Ohhhh, that's his real present."

Five-star book, clearly."

Click here for the original reviews
Related products