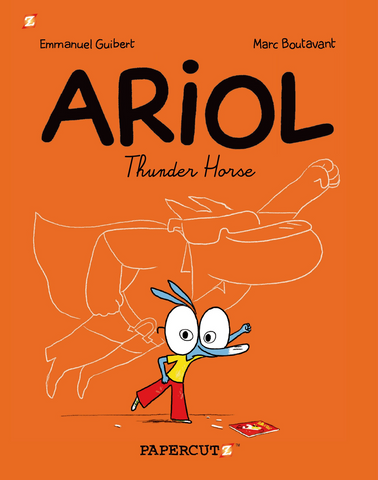 Ariol #2: Thunder Horse by Emmanuel Guibert (Paperback)
Ariol knows he's just like his hero in every way: brave, er . . . handsome, and . . . um . . .tall? Well, maybe Ariol has a ways to go, but that's not going to stop him from doing everything he can to grow up and become just like the guardian of the stars! With charming artwork and hilarious vignettes, Ariol is the right series for anyone who ever started off life as a kid!
*Despite our best efforts to predict the demand for books, the magical spells we use sometimes fail us. So to check if we have the book in-stock before you place your order, contact us at 6702 2452 or drop us an email at myimaginationkingdom@gmail.com
Reading Level: 7+
Reviews:
"I am LOVING Ariol. I can't believe how wonderfully humorous these short strips are. I've been recommending them to some of my older and even adult graphic novel readers because the funny nostalgic memories of just how children behave are priceless."
"Ariol is such a great comic for kids. As usual, the French lead the way in awesome bandes dessinees. The characters and dialog are funny, and more importantly, believable. The humor is wry, without being ironic; the kids talk and act like kids, not tiny stand-ins for adults. Reading it as an adult, I don't appreciate it in a "wink-wink, this humor is really for adults", I appreciate it in a "oh wow, I remember feeling like this as a kid". And the art is fabulous; playful, cute, hilarious."
Click here for the original reviews 
Related products