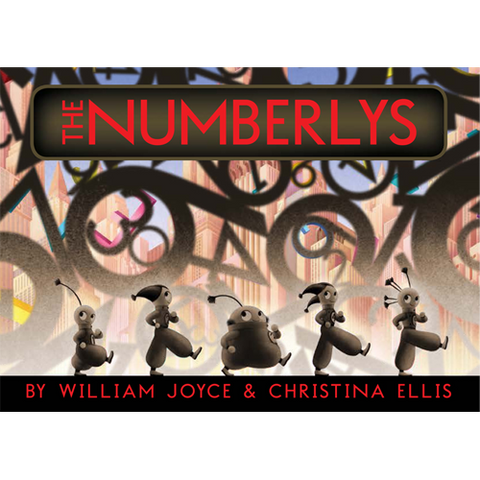 The Numberlys by William Joyce (Hardback)
From the team who brought you The Fantastic Flying Books of Mr. Morris Lessmore comes an alphabet tale extraordinaire!

Once upon a time there was no alphabet, only numbers.

Life was fine. Orderly. Dull as gray paint. But our five jaunty heroes weren't willing to accept that this was all there could be. They knew there had to be more.

So they broke out hard hats and welders, hammers and glue guns, and they started knocking some numbers together. Removing a piece here. Adding a piece there. At first, it was awful. But the five kept at it, and soon it was artful! One letter after another emerged, until there were twenty-six. Twenty-six letters and they were beautiful. All colorful, shiny, and new. Exactly what our heroes didn't even know they were missing.

And when the letters entered the world, something truly wondrous began to happen - Pizza! Jelly beans! Color! Books!

Based on the award-winning app, this is William Joyce and Moonbot's Metropolis-inspired homage to everyone who knows there is more to life than shades of black and gray.
*Despite our best efforts to predict the demand for books, the magical spells we use sometimes fail us. So to check if we have the book in-stock before you place your order, contact us at 6702 2452 or drop us an email at myimaginationkingdom@gmail.com
Reading Level: 6+
Reviews:
"I love William Joyce's retro style of art illustration. His pictures tell such great stories, he is one of the few authors that can convey a story that way. The book goes from black and white to color and it is fun. The book starts out with only numbers in the world and the world is gray, lifeless and dull. When The Numberlys decide that things should change, they set out to do something about it. So, they create Letters. Boom, the world comes colorfully to life. This is a fun book showing the value of numbers and letters in learning. Makes a great coffee table book as well. Children and adults will get a kick out of this one. "
"My four year old son loved this book. We read it twice in the same day at his request. I found it to be a very different book to most stories we read. For starters, we had to hold the book long ways - VERY different. I liked the moral of the story: If you want things to change for the better to be happy, then do it, no matter the mistakes that are made from the beginning to the end result - which I got from the boredom the 5 friends faced every day doing the same thing, being the same thing, eating the same thing but one day they had an idea to make things different (ie. better) and "at first it was awful and then artful" and then everything changed and everyone was happier. It was very inventive and fun to read and my son and I could read the letters along the way as they were made. It helps him with his alphabet, which is good.
In my sons words: I liked this story. It was a good one. I liked how the friends changed everything into colours and I could read the alphabet as it was made."
Click here for the original reviews
Related products