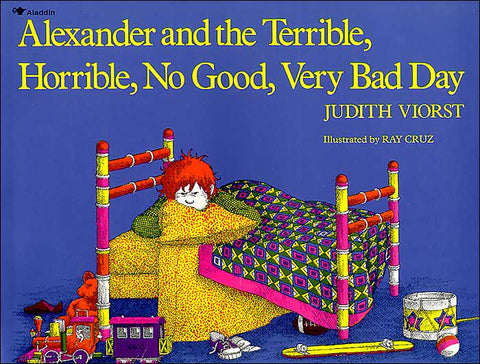 Alexander and the Terrible, Horrible, No Good, Very Bad Day by Judith Viorst (Paperback)
Alexander knew it was going to be a terrible day when he woke up with gum in this hair.
And it got worse...
His best friend deserted him. There was no dessert in his lunch bag. And, on top of all that, there were lima beans for dinner and kissing on TV!
This handsome new edition of Judith Viorst's classic picture book is sure to charm readers of all ages.
*Despite our best efforts to predict the demand for books, the magical spells we use sometimes fail us. So to check if we have the book in-stock before you place your order, contact us at 6702 2452 or drop us an email at myimaginationkingdom@gmail.com
Reading Level: 6+
Reviews:
"One of the all-time classics. I loved this one as a kid, and I love it all the more as a grown-up reading it to my boys.

I'm dimly aware they made a movie based on the book, though I have no idea why.

If you watched the movie and haven't read this book, I fear you're done yourself a great injustice. Please consider picking up the book. It's well worth your time."
"Not so much for preschool because it's a more formulated story and it's in black and white, but my 5 yr old loves it. About a boy who just has a bad day, something any kid can relate to. A great story."
Click here for the original reviews
Related products