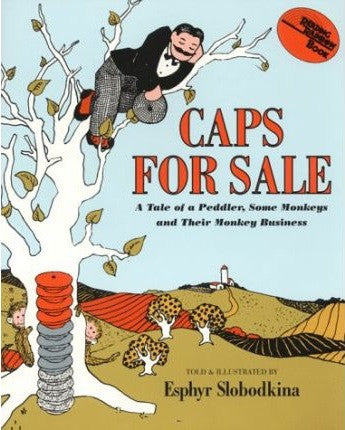 Caps for Sale: A Tale of a Peddler, Some Monkeys and Their Monkey by Esphyr Slobodkina (Paperback)
Caps for Sale is a timeless classic, in print for over fifty years, and beloved by generations of readers. This easy-to-read story about a peddler and a band of mischievous monkeys is filled with warmth, humor, and simplicity. Children will delight in following the peddlers efforts to outwit the monkeys in this new, enlarged, and redesigned edition, and will ask to read it again and again.
*Despite our best efforts to predict the demand for books, the magical spells we use sometimes fail us. So to check if we have the book in-stock before you place your order, contact us at 6702 2452 or drop us an email at myimaginationkingdom@gmail.com
Reading Level: 6+
Reviews:
"No fancy computer generated illustrations--just a bright, limited palette. No characters with their own TV show. No farting dogs, no cool pullouts or lift the flaps. Just a simple little story about "a peddler, some monkeys and their monkey business" But for 60 years kids have read and loved this story. I have never had a group of kids who didn't have fun shaking their fingers and stomping their feet along with the monkeys.This is what a true "classic" is all about!"
"Well, you could have knocked me over with a feather after I read this one to the kids! I checked out Caps for Sale from the library because two of my friends rated this book highly, but I didn't read the book before I checked it out. I stuck it in my bag, along with Once Upon a Royal Superbaby, and on the bus ride home I read the book. "Oh, no," I thought, "the kids are going to think this is lame! There's no way this is going to be able to compete with that superbaby book!"

Huh. Shows what I know! The kids *loved* this book! I thought my nephew was going to have some sort of hemorrhage from laughing so hard, and the more he laughed, the more my niece laughed. The more the kids laughed, the more my sister and I laughed! Pretty soon, it was a big old comedy hour in the car (which is where we read this book). I could not believe that a quaint little book from 1947, with a simple little story and simple little drawings could elicit such joy from those kids! My sister and I looked at each other in amazement, and I shrugged and said, "I know, right?!" The kids made me read Caps for Sale five times, and then they took it home so my sister could read it to them again later. Who'da thunk it?!"
Click here for the original reviews
Related products