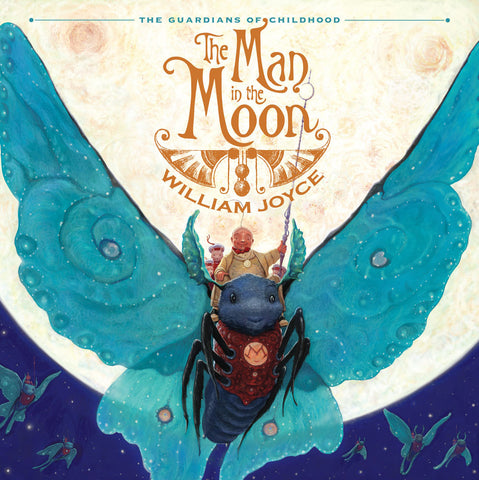 The Man In The Moon (The Guardians of Childhood) by William Joyce (Hardback)
Up there in the sky.
Don't you see him?
No, not the moon.
The Man in the Moon.
He wasn't always a man.
Nor was he always on the moon.
He was once a child.
Like you.
Until a battle,
a shooting star,
and a lost balloon
sent him on a quest.
Meet the very first guardian of childhood.
MiM, the Man in the Moon.
*Despite our best efforts to predict the demand for books, the magical spells we use sometimes fail us. So to check if we have the book in-stock before you place your order, contact us at 6702 2452 or drop us an email at myimaginationkingdom@gmail.com
Reading Level: 7+
Reviews:
"OMG!!! William Joyce is seriously brilliant. There is no way that I could summarize or review this book and do it justice. But...I will still try.

The Man in the Moon (MiM) began as a baby. Nightlight served as his guardian and protected him from the great darkness. As MiM grows older he thinks about all the children on Earth and decides that they also need a guardian...many guardians but MiM will be the first.

The illustrations are remarkable and follow Joyce's signature style of vivid color, 3-D like art, shapes, robots, capturing action, etc.

A must read for all!"
"I thought this book was absolutely magical. The illustrations were so incredible. The author William Joyce created one of my favorite Playhouse Disney shows Rolie Polie Olie. I used to watch it with my niece when she was 2 yrs. old (the good ol' days). He has created this fantastical world about the character the Man in the Moon. As I was reading this book I was thinking "this should really be made into a movie". I checked out BN.com and they stated that Dreamworks is currently producing/filming this series (more books will be created about persons of legend). The story is engaging and captivating. What I really liked about this book was that it was slightly edgy without being too scary. Many children's books are leaning towards "how far can we get away with scaring kids". This one thankfully did not. It keeps both adult and child amused. I thought it was a great story; I wish I could have given it 5 stars but towards the end it got a little off track and wandered a bit. I do recommend this book. The one thing that completely elevates this book is the illustrations; masterful work. "
Click here for the original reviews
Related products