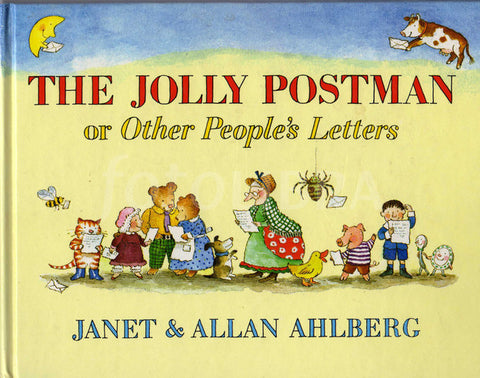 The Jolly Postman or Other People's Letters by Allan Ahlberg (Hardback)
Join the Jolly Postman as he goes on his rounds via bicycle, delivering mail to Goldilocks, Cinderella, Jack's Giant, and other fairy-tale characters. Tucked into envelopes are actual letters for children to pluck out. Humorous and engaging, this is the perfect read over a spot of tea. Ahhh!
*Despite our best efforts to predict the demand for books, the magical spells we use sometimes fail us. So to check if we have the book in-stock before you place your order, contact us at 6702 2452 or drop us an email at myimaginationkingdom@gmail.com
Reading Level: 4+
Reviews:
"Love this book—have had it for some time and just recently reread it. The postman delivers letters to a variety of characters from children's fairy tales including: Goldilocks, who writes a letter of apology to The Three Bears stating her Daddy will fix the 'littel' chair. The Wicked Witch gets an advertising brochure from Hopgoblin Supplies Ltd offering such things as a Halloween boot that comes in five different shades of black in sizes 4-14 and an easy-to-clean cauldron set with free recipe for Toad in the hole. And, Jack sends a vacation postcard to Big G the Giant from himself, his mum and "your hen that lays the golden eggs. (It's better than traveler's checks)." A great book for kids, and Hey! I enjoyed it too!"
"I had forgotten about this book until Phyllis added it. This was one of my daughter's favorites. She LOVED the letters included with portion of the story. The interesting thing is that when we bought the book one of the letters was missing. We wrote to Chinaberry (the company we ordered the book from) and they very cheerily sent the missing letter - along with a personalized letter to my daughter - which then had to be included in the book and in each reading of the book."
Click here for the original reviews
Related products