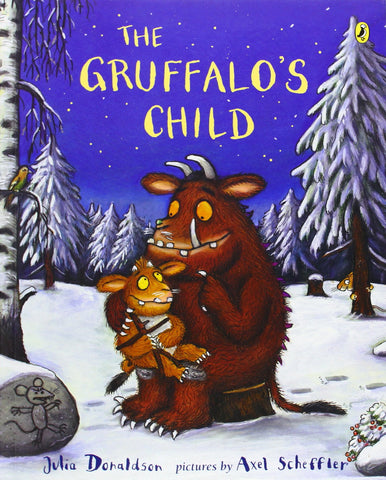 The Gruffalo's Child by Julia Donaldson (Paperback)
In this delightful sequel to "The Gruffalo," the Gruffalo's child disobeys her father's warnings and ventures out into the snow to find the Big Bad Mouse, a creature her father met years ago. After all, the Big Bad Mouse doesn't really exist... does he? 
*Despite our best efforts to predict the demand for books, the magical spells we use sometimes fail us. So to check if we have the book in-stock before you place your order, contact us at 6702 2452 or drop us an email at myimaginationkingdom@gmail.com
Reading Level: 3+
Reviews:
"This is a great follow up to the book The Gruffalo. The Gruffalo's Child follows the adventure of the Gruffalo's daughter as she goes in search for the Big Bad Mouse. I read this book during story time to year 1 children and they enjoyed the continuity of the characters and joined in with the repeated sentences - even those who were not previously familiar with the story. They also enjoyed getting into character for each creature. This is a great story for children as they follow the Gruffalo's child on her adventure as she creeps off on a cold winter's night to find the Big Bad Mouse. The final scene of the child cuddled up to her father is one that children loved, as they were able to recognise the pictures on the cave's wall of the animals that have featured in the book. The author uses rhyme to produce a flowing story that allows children to guess the words. The book is also great for key stage 1 and 2 for introducing rhyme and to show how the use of adjectives can make the story more enjoyable to read."
"This sequel to The Gruffalo is the original in reverse. Instead of a mouse going towards a gruffalo, the gruffalo's child sneaks out at night and looks for the Big Bad Mouse. First, the illustrations are wonderful. They are colorful and the illustrator adds little touches to catch the eye such as the child's stick doll, little animals in the background, and texture. This story is a wonderful example of the little child thinking she is braver than the adult. But once again, the Big Bad Mouse rules the day. My favorite part is when the child, now feeling less brave, runs back and snuggles with papa gruffalo and goes to sleep."

Click here for the original reviews
Related products