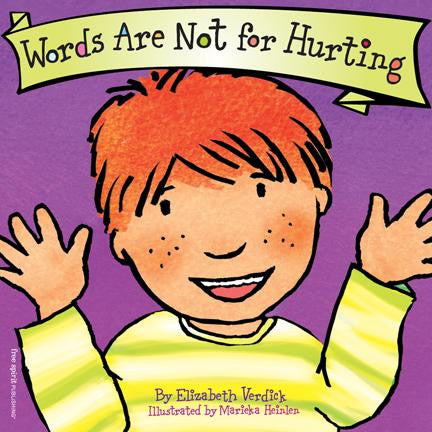 Best Behaviour Series: Words Are Not for Hurting by Elizabeth Verdick (Board Book)
Some of your words are kind. But some of them are not. Words are not for hurting. What do hurtful words do?"

Children are known for speaking their minds. We can't expect them to watch every word, but we can help them to understand that their words affect other people. We can gently guide them to choose words that are helpful instead of hurtful, and to say two very important words—"I'm sorry"—when hurtful words come out before they can stop them.

Like Free Spirit's earlier board books Hands Are Not for Hitting and Teeth Are Not for Biting, Words Are Not for Hurting helps little ones learn big ideas: that they are responsible for what they do and say; that their actions and words affect others; and that they can make positive choices. Simple words and delightful full-color illustrations make it perfect for reading aloud one-on-one or in small groups. The book also includes helpful tips for parents and caregivers.
*Despite our best efforts to predict the demand for books, the magical spells we use sometimes fail us. So to check if we have the book in-stock before you place your order, contact us at 6702 2452 or drop us an email at myimaginationkingdom@gmail.com
Reading Level: 3+
Reviews:
"While my two year old didn't like this as much as the other books in the series, this was still a cute, fun read. It encourages kids to be careful what they say and to respect other people's feelings."
Click here for the original review
Related products