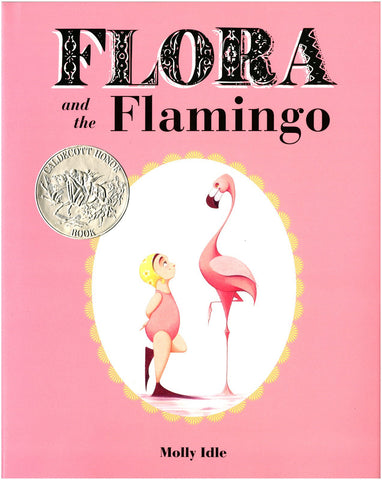 Flora and the Flamingo by Molly Idle (Hardback) Winner of 2014 Caldecott Honor Medal
In this innovative wordless picture book with interactive flaps, Flora and her graceful flamingo friend explore the trials and joys of friendship through an elaborate synchronized dance. With a twist, a turn, and even a flop, these unlikely friends learn at last how to dance together in perfect harmony. Full of humor and heart, this stunning performance (and splashy ending!) will have readers clapping for more!
*Despite our best efforts to predict the demand for books, the magical spells we use sometimes fail us. So to check if we have the book in-stock before you place your order, contact us at 6702 2452 or drop us an email at myimaginationkingdom@gmail.com
Reading Level: 3+
Reviews:
"Flora and the Flamingo comes without any words, but contains plenty of story just waiting for a child to discover it. Flora does her best to imitate a flamingo, both in her attire and her actions. The flamingo, noticing her and apparently disapproving, contorts into increasingly difficult poses until Flora topples. Then, noting her distress and feeling apologetic, the flamingo enters into a duet with Flora to finish out the book. The illustrations are simple but elegantly crafted. Ample white space, framed by trees and blossoms, focus attention on the characters and remove any background distractions. It is easy to follow the emotions on the faces and in the body language of both characters. Perhaps the nicest touch is the yellow of Flora's bathing cap, which keeps the book from being too pink. This book will appeal to a wide range of readers from preschool and adult. It is particularly suited to young children who do not want to be confined to a story with words, but would rather use their imaginations to tell their own story. "
"This book is just too cute for words!!! The fact that it is wordless allows readers to interpret the actions, reactions and interactions between Flora and the Flamingo she wishes so desperately to dance with. The illustrations are just adorable, simple yet elegant, detailed but not overwhelming. Children will see a reluctant relationship bloom into a wonderful friendship."
Click here for the original reviews
Related products