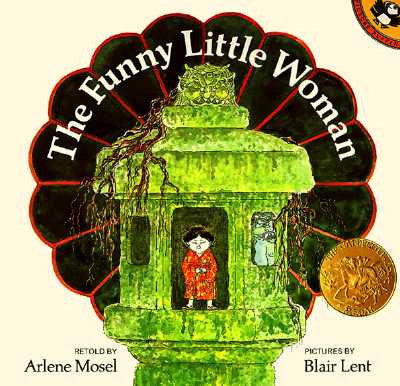 The Funny Little Woman by Arlene Mosel (Paperback) Winner of 1973 Caldecott Medal
A giggly lady from Japan chases a rolling rice dumpling and is captured by a fearsome oni.
*Despite our best efforts to predict the demand for books, the magical spells we use sometimes fail us. So to check if we have the book in-stock before you place your order, contact us at 6702 2452 or drop us an email at myimaginationkingdom@gmail.com 
Reading Level: 6+
Reviews:
"I loved this book when I was girl, and my children have enjoyed it too. It's a great story read aloud with an animated voice. Be creative in your storytelling, your children will love it."
"This book is so nostalgic for me. My parents used to read this to me when I was little and I absolutely loved it when my dad would say, "Tee hee hee" in his impression of the funny little woman. Besides the element of nostalgia, I loved this book because of the beautiful Japanese-style art artwork and the gumption of the woman in the story. She has no fear! I'm not saying that she's exactly a great role model for kids, (I mean she completely ignores the warnings that were given to her) but she faces the results of her decisions with courage and a smile! This book is a great one for children. I have loved it and learned from it for most of my life....I mean I still have yet to face a wicked oni...that's got to count for something!"
Click here for the original reviews
Related products