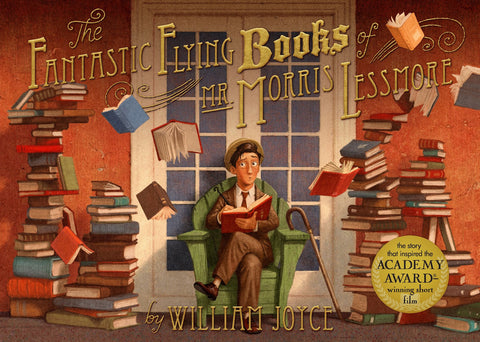 The Fantastic Flying Books of Mr Morris Lessmore by William Joyce (Hardback)
The book that inspired the Academy Award–winning short film, from New York Times bestselling author and beloved visionary William Joyce.

Morris Lessmore loved words.
He loved stories.
He loved books.
But every story has its upsets.
     Everything in Morris Lessmore's life, including his own story, is scattered to the winds.
     But the power of story will save the day.
     Stunningly brought to life by William Joyce, one of the preeminent creators in children's literature, The Fantastic Flying Books of Mr. Morris Lessmore is a modern masterpiece, showing that in today's world of traditional books, eBooks, and apps, it's story that we truly celebrate—and this story, no matter how you tell it, begs to be read again and again.
*Despite our best efforts to predict the demand for books, the magical spells we use sometimes fail us. So to check if we have the book in-stock before you place your order, contact us at 6702 2452 or drop us an email at myimaginationkingdom@gmail.com
Reading Level: 6+
Reviews:
"Any books that feature a library are sure to capture my attention and when I saw this book displayed at our daughters' elementary school library, I just knew we had to borrow it. The story is entertaining, though quite bizarre, and I think it's best for older children who can appreciate the many layers of the tale. The illustrations are wonderful and we will have to see if we can find the short film.

I love books about books and I love stories that celebrate creativity and imagination. We really enjoyed reading this book together. "
"This is one of my favorite books to read to my children and we read it several times a week. The illustrations are beautiful and the story is even more so. Morris Lessmore losses everything but gains it back and then some in the comforting embrace of books. I love books about books and the people who read them. Morris Lessmore lives an ideal life. To live among books, what fun!

This book helped impress upon my kids the power that reading can have in your life. Our lives are shaped and altered (and made infinitely better) by the books we read. "
Click here for the original reviews
Related products