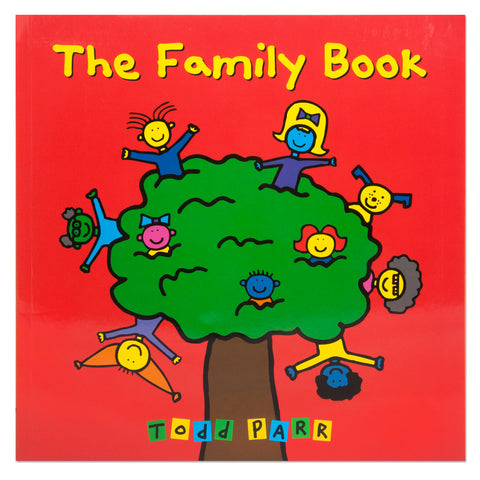 The Family Book by Todd Parr (Paperback)
The Family Book celebrates the love we feel for our families and all the different varieties they come in. Whether you have two moms or two dads, a big family or a small family, a clean family or a messy one, Todd Parr assures readers that no matter what kind of family you have, every family is special in its own unique way.

Parr's message about the importance of embracing our differences is delivered in a playful way. With his trademark bold, bright colors and silly scenes, this book will encourage children to ask questions about their own families. Perfect for young children just beginning to read, The Family Book is designed to encourage early literacy, enhance emotional development, celebrate multiculturalism, promote character growth, and strengthen family relationships
*Despite our best efforts to predict the demand for books, the magical spells we use sometimes fail us. So to check if we have the book in-stock before you place your order, contact us at 6702 2452 or drop us an email at myimaginationkingdom@gmail.com
Reading Level: 4+
Reviews:
"Todd Parr is an absolute gem! He knows so well how to create fun and appealing books for children that promote self-acceptance and an appreciation of the diversity of modern society. In The Family Book, Todd shows us how families can be different from each other in some ways, but how all families are similar as well. "Some families are the same color/ Some families are different colors....All families like to HUG each other!" "Some families have two moms or two dads/ Some families have one parent instead of two....All families like to celebrate special days together!"
I highly recommend this book for all families, schools and communities that are trying to prepare children to understand, appreciate and embrace the differences that they will encounter in their lives. In particular, biracial, adoptive and alternative families will find this book a very special addition to their home libraries. Thank you, Todd Parr, for sending a message of love to the world in your books!"
"As a single parent with an adopted child of another race, it is great to have a book that helps my daughter see our family as normal. This has been a great book for us at various ages, and has been a gift to many of her classrooms. Great work Todd Parr!"

Click here for the original reviews
Related products