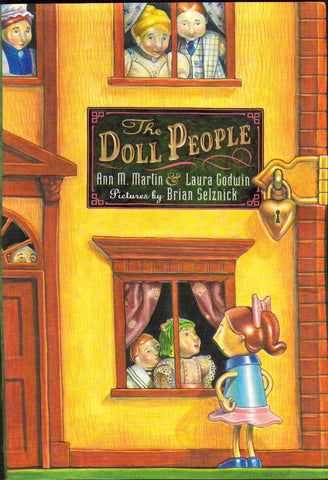 The Doll People by Ann M. Martin (Paperback)
Annabelle Doll is 8 years old--and has been for over 100 years. Nothing much has changed in the dollhouse during that time, except for the fact that 45 years ago, Annabelle's Auntie Sarah disappeared from the dollhouse without a trace. After all this time, restless Annabelle is becoming more and more curious about her aunt's fate. And when she discovers Auntie Sarah's old diary, she becomes positively driven. Her cautious family tries to discourage her, but Annabelle won't be stopped, even though she risks Permanent Doll State, in which she could turn into a regular, nonliving doll. And when the "Real Pink Plastic" Funcraft family moves in next door, the Doll family's world is turned upside down--in more ways than one!
*Despite our best efforts to predict the demand for books, the magical spells we use sometimes fail us. So to check if we have the book in-stock before you place your order, contact us at 6702 2452 or drop us an email at myimaginationkingdom@gmail.com
Reading Level: 8-9
Reviews:
"I wish this was Book One of a very long series...unfortunately, it currently stands alone. The story is delightfully imaginative and unique, told from the perspective of a porcelain family of dolls who surreptitiously live with the fourth generation of their beloved human family. Aided by the recent discovery of a secret journel, Annabelle, the little girl doll, resolves to decipher the mystery of her Aunt Sarah's disappearance from the house forty years before. Along the way, she learns the values of courage and friendship, determination and family love. Filled with adventure and truly interesting perspective, the book also teaches children about the differences in society today versus life 100 years ago. It's accompanied by wonderfully drawn illustrations that are featured throughout the book on practically every page. My daughter, aged 6, really loved the story and insisted upon sleeping with the book at night in place of her usual stuffed animals! In our family, this book ranks right up there with Charlotte's Web and Harry Potter."
"What a terrific story! My daughter (10 yrs) and I read this book together during our nightly ritual for reading before bedtime (together), and each night we had difficulty putting the book down, wanting to just keep reading to see what would happen next! The author writes in such a way that it makes one feel as if they are right there, living the story along with the charecters. When everyone at Kate's house is fast asleep the Doll family comes alive, inspiring the imagination and for some of use remembering a time when we too wondered if our dolls ever came alive when we weren't looking!
A great story, with wonderfully animated charecters, a good mystery and fun suspense that'll keep tickling your funny bone, especially when the Captain (a real live cat) decides to investigate the dolls, or a real spider almost the same size as one of the doll charecters, crawling a wee bit too close for comfort, truly awakening the imagination with the authors knack for giving just the right amount of detail to keep your mind wanting for more...
I'd recommend this book for anyone who enjoys sharing great stories with their children, especially moms and daughters.. even for adults who have a passion for dolls. Excellent, will be one of my favorites for a long long time."
Click here for the original reviews
Related products