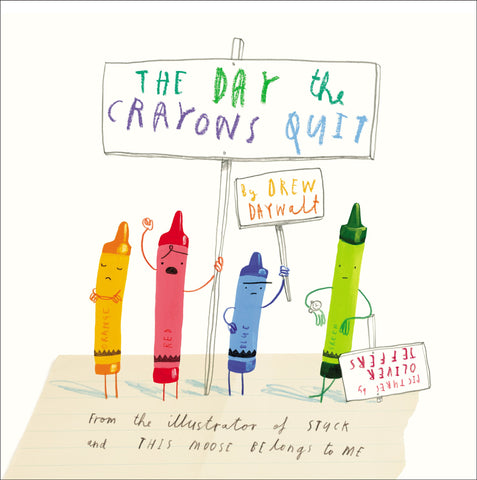 The Day The Crayons Quit by Oliver Jeffers (Hardback)
Poor Duncan just wants to color. But when he opens his box of crayons, he finds only letters, all saying the same thing: We quit!

Beige is tired of playing second fiddle to Brown. Blue needs a break from coloring all that water, while Pink just wants to be used. Green has no complaints, but Orange and Yellow are no longer speaking to each other.

What is Duncan to do? Debut author Drew Daywalt and New York Timesbestseller Oliver Jeffers create a colorful solution in this playful, imaginative story that will have children laughing and playing with their crayons in a whole new way.
*Despite our best efforts to predict the demand for books, the magical spells we use sometimes fail us. So to check if we have the book in-stock before you place your order, contact us at 6702 2452 or drop us an email at myimaginationkingdom@gmail.com
Reading Level: 6+
Reviews:
"'One of the things I love about an occasional visit to Barnes and Noble is getting my hands on a darling (brand spanking new) little gem like this in the children's book section.

I read it to myself. Smiled a lot. Then I called Zach over and read it to him. And I'm putting it on my to-read shelf, only so I can remember to for sure find it again and read it to my other little guys. Sometimes I think I would make an excellent children's book buyer for my local library. :o)

One day Duncan pulls out his well-used crayon box, and instead of his faithful friends, he finds a pile of letters they've written to him, detailing their complaints and other observations. Super creative and entertaining, Zach and I spent time today recalling some of the letters and laughing anew.

I just plain loved it!"
"Oh my goodness, this book was fabulous!!!! The Baby Bettys giggled and so did Mr. Betty & I! The illustrations are adorable, and the letters from the crayons are hilarious! The Baby Bettys found the Peach Crayon to be the most fascinating. Upon finishing the book they immediately peeled the paper off of every peach crayon in the house! Personally, I got a kick out of the Yellow and Orange crayons fighting over who should be used to color the sun! So, so cute-- we have read it about a dozen times already! They are requesting that we read it over and over again. :) Some picture books are almost painful for the parent to read, but not this one! The best part is that it encourages creativity and thinking outside the lines!

Two things happened after we finished the book: 1. The Baby Bettys obviously colored. 2. All peach crayons were stripped of their wrappers! "
Click here for the original reviews
Related products