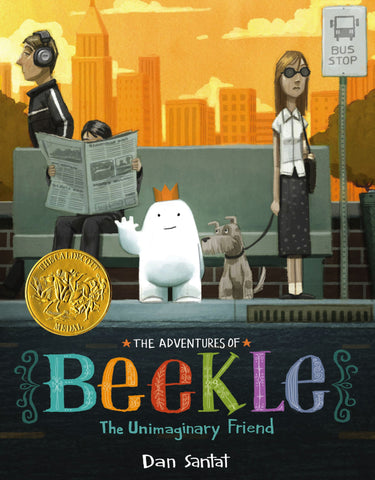 The Adventures of Beekle: The Unimaginary Friend by Dan Santat (Hardback) Winner of 2015 Caldecott Medal
This magical story begins on an island far away where an imaginary friend is born. He patiently waits his turn to be chosen by a real child, but when he is overlooked time and again, he sets off on an incredible journey to the bustling city, where he finally meets his perfect match and-at long last-is given his special name: Beekle.

New York Times bestselling and award-winning author and illustrator Dan Santat combines classic storytelling with breathtaking art, creating an unforgettable tale about friendship, imagination, and the courage to find one's place in the world.
*Despite our best efforts to predict the demand for books, the magical spells we use sometimes fail us. So to check if we have the book in-stock before you place your order, contact us at 6702 2452 or drop us an email at myimaginationkingdom@gmail.com
Reading Level: 4+
Reviews:
"The Adventures of Beekle, The Unimaginary Friend by Dan Santat – upon finishing this book, my son and I immediately reread it. We couldn't get enough of the end papers, chatted about whether we preferred the hard cover or sleeve more for the design, talked about friendship, and chatted about imaginary friends. I loved finding a new book that once again leads me to talking about being brave and taking risks! Highly recommend hopping up, running to the store, and purchasing a copy of this treasure! Sure to become a classic!"
"I LOVED THIS BOOK! It's a great imagination discussion starter and the creativity of it is out of this world."
Click
here
for the original reviews
Related products