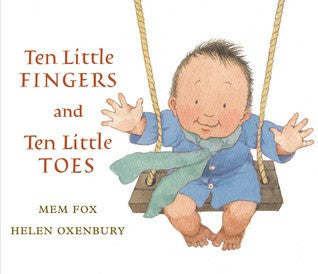 Ten Little Fingers and Ten Little Toes by Mem Fox (Board Book)
As everyone knows, nothing is sweeter than tiny baby fingers and chubby baby toes. . . . And here, from two of the most gifted picture-book creators of our time, is a celebration of baby fingers, baby toes, and the joy they—and the babies they belong to—bring to everyone, everywhere, all over the world!

This is a gorgeously simple picture book for very young children, and once you finish the rhythmic, rhyming text, all you'll want to do is go back to the beginning . . . and read it again! The luminous watercolor illustrations of these roly-poly little ones from a variety of backgrounds are adorable, quirky, and true to life, right down to the wrinkles, dimples, and pudges in their completely squishable arms, legs, and tummies.
*Despite our best efforts to predict the demand for books, the magical spells we use sometimes fail us. So to check if we have the book in-stock before you place your order, contact us at 6702 2452 or drop us an email at myimaginationkingdom@gmail.com
Reading Level: 2+
Reviews:
"Oh, dear! This is just about the most adorable, sweet-and-snuggly book-about-babies. You can almost smell their baby-fragrance and hear the darling coos. It's also a great little "message" story illustrating the "we're all the same inside" theme; no matter where a baby is born--no matter her culture or his skin color--all have ten little fingers and ten little toes and are very much loved."
"I resisted this one unfairly because of the title and the other reviews. I figured it was another sweet, well-meaning, "we are all alike and so let's all get along" sort of book. Well it is all that, but so much more too.

Fox's simple yet perfect verse is perfectly illustrated by Oxenbury's lovely drawings and together they make this a completely and perfectly delightful book. I can only imagine that young children are going to want this book read aloud over and over, they will pour over the images, and, yes, instant classic is what I think!"
Click here for the original reviews
Related products