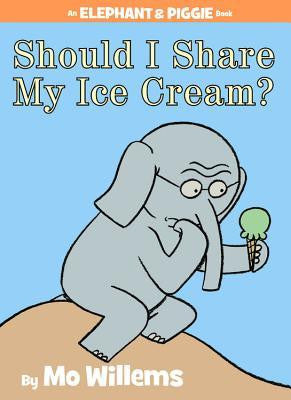 Elephant & Piggie #15: Should I Share My Ice Cream? by Mo Willems (Hardback)
Gerald is careful. Piggie is not.
Piggie cannot help smiling. Gerald can.
Gerald worries so that Piggie does not have to.

Gerald and Piggie are best friends.

In Should I Share My Ice Cream? Gerald has a big decision to make. But will he make it in time?

Using vocabulary that is perfect for beginning readers (and vetted by an early-learning specialist), Mo Willems has crafted a funny story about the challenges of doing the right thing. Fans of the Geisel Award-winning duo will eagerly eat it up!
*Despite our best efforts to predict the demand for books, the magical spells we use sometimes fail us. So to check if we have the book in-stock before you place your order, contact us at 6702 2452 or drop us an email at myimaginationkingdom@gmail.com
Reading Level: 2+
Reviews:
"Sharing is something everyone in our family struggles with and food is no exception. Willems does a wonderful job of showing the different sides to sharing, from the benefits to the guilt. The attractively simple illustrations makes this appropriate for all ages. If you're looking for a good beginner's reading book, this is a solid level 1 reading that any kid will enjoy. Watching the tension build as the ice cream begins to melt and the elephant struggles with his conscience is amusing and something my children could easily relate to. A good lesson mixed in with a marvelous story puts this in our favorites pile."
"Elephant and Piggie books rarely disappoint and this one is no exception. The language is simple and repetitive and carefully placed against the grey background of speech bubbles. The rest of the page is full of white space and Elephant trying to decide whether or not he should share his very favorite ice cream with his very best friend. When the inevitable happens, what with all the dancing and gesticulating and torturous decision making, the surprise ending leaves everyone - readers, listeners and characters alike - with a smile on their faces and ready to share some ice cream with a friend. "
Click here for the original reviews
Related products