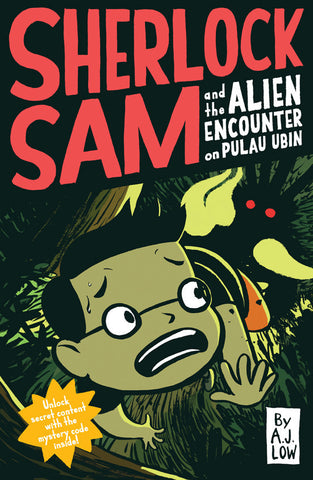 Sherlock Sam and the Alien Encounter on Pulau Ubin: Book #4 by A.J. Low (Paperback)
When weird things happen while camping on Pulau Ubin, Sherlock Sam is convinced that aliens are to blame! Eager to investigate, Sherlock Sam and his not-so-eager sidekick robot Watson journey into the wilderness and discover a mystery that's out of this world. Will these close encounters get the better of Singapore's Greatest Kid Detective, or will he prove to be of a higher life form?
*Despite our best efforts to predict the demand for books, the magical spells we use sometimes fail us. So to check if we have the book in-stock before you place your order, contact us at 6702 2452 or drop us an email at myimaginationkingdom@gmail.com
Reading Level: 8-9
Reviews:
"Authors Adan Jimenez and Felicia Low-Jimenez aka AJ Low have done it again and it's easy to see why the series has become a firm favourite with kids. They've got great characters, recognizable locations and each book weaves intrigue, adventure and fun in slightly over a hundred pages. I've seen even the most reluctant readers waiting anxiously for the next installment. The measure of a good children's book is how well it's received by kids, not adults and by gosh, I can say, without a shadow of a doubt, they've made the series into a solid hit. I can't wait to see a TV adaptation of this series, but doubt it will be as good as the books. I, for one, will be sad to see the series come to an end. AJ Low are on track to becoming the most popular authors in the region and that's not hyperbole, friends, so go out and grab the books if you haven't already!"
Click
here
for the original reviews
Related products