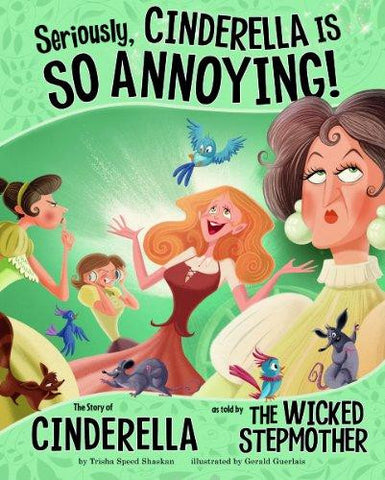 Seriously, Cinderella Is So Annoying!: The Story of Cinderella as Told by the Wicked Stepmother by Trisha Speed Shaskan (Paperback)
OF COURSE you think Cinderella was the sweetest belle of the ball. You don't know the other side of the story. Well, let me tell you...This fractured fairy tale provides a fresh perspective on a well-known tale.
*Despite our best efforts to predict the demand for books, the magical spells we use sometimes fail us. So to check if we have the book in-stock before you place your order, contact us at 6702 2452 or drop us an email at myimaginationkingdom@gmail.com
Reading Level: 7+
Reviews:
"Everyone knows the story of Cinderella and her evil stepmother and stepsisters, but maybe just maybe there is more to the story. Maybe Cinderella is not as innocent as she seems. According to her stepmother Cinderella never stops talking and the only reason she had to stay home from the ball was because she was sick. Could that be the truth?

I would recommend this story to teachers who want their students to learn that there is always more then one side to a story. For teachers of older students this would be a great book to start a writing assignment from."
"This was a great exercise in viewing the other side of the story! I especially like the ideas at the back of the book as an example of distinguishing the differences in both the classic tell and the stepmother's version. This would be a great storytime lesson for elementary age kiddos"
Click
here
for the original reviews
Related products