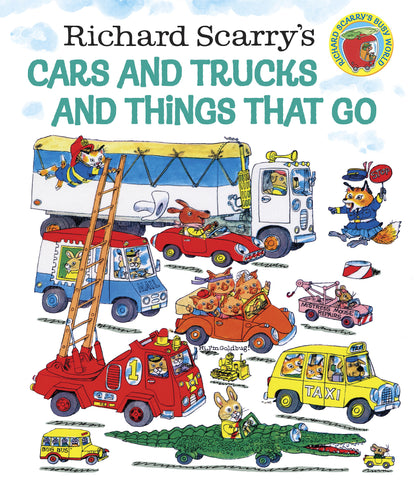 Richard Scarry's Cars and Trucks and Things That Go by Richard Scarry (Hardback)
The station wagon, the tow truck, the garbage truck and the bulldozer. Every manner of machinery that moves is riotously depicted in this classic favorite. As the pig family head to the beach for a picnic, they encounter every vehicle known, from the forklift to the locomotive, and many vehicles that are not as common, from the pumpkin car to the broom-o-cycle. Each detailed spread provides tremendous opportunity to make up stories and describe situations. Will Officer Flossy catch Dingo? Will Rollo Rabbit catch his runaway steamroller? And with literally hundreds of things to look at, youngsters will spend hours trying to find Goldbug on every page. 
*Despite our best efforts to predict the demand for books, the magical spells we use sometimes fail us. So to check if we have the book in-stock before you place your order, contact us at 6702 2452 or drop us an email at myimaginationkingdom@gmail.com
Reading Level: 4+
Reviews:
"This is our breakfast companion book, known to my son as 'huge book'. It is a 'huge' book, filled with many illustrations of Scarry's imagined (and some real) trucks, planes, trains, and vehicles of all kinds. He loves having me read the story, looking for the hidden 'Goldbug' in each page spread, and coming up with his own names for the vehicles. Lots to look at, like most of Scarry's books, so we spend a lot of time with it. This was originally a library pick, that got renewed a few times, then finally purchased! "
"This was one of the books my parents read to me and my brother when we were very young. It is interesting to see how non-linear this book is. The story is very loose, and the pages are very busy. I had a lot of fun finding Goldbug on each page. Probably the strangest thing for me was opening the book and getting a whiff of the way it smelled. It smelled the same as it did over 25 years ago. It was a surreal experience. I was looking for nostalgia and found it with this book. Good stuff."
Click here for the original reviews
Related products