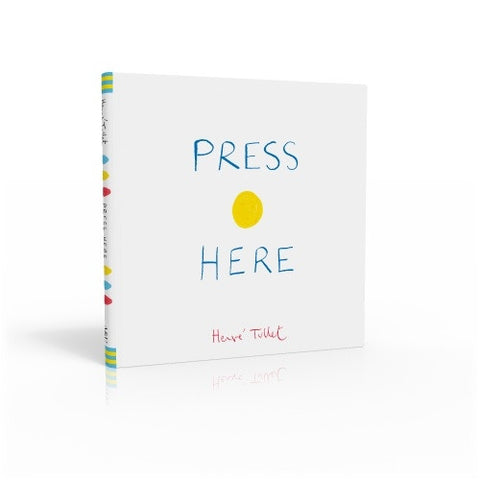 Press Here by Herve Tullet (Hardback)
Press the yellow dot on the cover of this book, follow the instructions within, and embark upon a magical journey! Each page of this surprising book instructs the reader to press the dots, shake the pages, tilt the book, and who knows what will happen next! Children and adults alike will giggle with delight as the dots multiply, change direction, and grow in size! Especially remarkable because the adventure occurs on the flat surface of the simple, printed page, this unique picture book about the power of imagination and interactivity will provide read-aloud fun for all ages!
*Despite our best efforts to predict the demand for books, the magical spells we use sometimes fail us. So to check if we have the book in-stock before you place your order, contact us at 6702 2452 or drop us an email at myimaginationkingdom@gmail.com
Reading Level: 3+
Reviews:
"I loved this brilliant little book. It asks the reader to do something to a colored dot (press here, rub gently & etc.) and when the page is turned, it appears that the reader's action has changed the illustration. It's a lovely concept, and moreover, it's just plain fun to do. I have seen toddlers and preschoolers loving it at the library, I've read it with K-3 kids, and just last weekend talked to a 9 year-old who loved it as much as I do. That's not counting the adults I know who have to have it forcibly removed from their hands before they can rejoin the conversation. Check it out."
"Opening the first page, it felt like this was going to be a fun. And it was! Very simple, physically interactive, great use of what appear to be finger paints -- including fingerprints -- in primary colors with a few guided suggestions. It's whimsical and three of us adults passed it around -- almost as much fun to watch someone else turn the pages and experience it/experiment with it. Can't wait for my grandson to discover it at whatever age that happens. PS. I'm back after venturing further into other books created for children, and PRESS HERE continues to be at the high-water mark!"
Click here for the original reviews
Related products