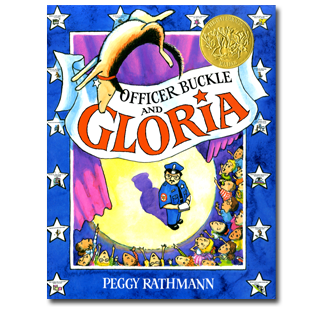 Officer Buckle and Gloria by Peggy Rathmann (Hardback) Winner of 1996 Caldecott Medal
Officer Buckle knows more about safety than anyone else in Napville, but his dull presentations put his audiences to sleep. Enter Gloria, Napville's new police dog. Gloria knows just how to liven up the safety speeches--as long as Officer Buckle's back is turned!
*Despite our best efforts to predict the demand for books, the magical spells we use sometimes fail us. So to check if we have the book in-stock before you place your order, contact us at 6702 2452 or drop us an email at myimaginationkingdom@gmail.com
Reading Level: 7+
Reviews:
"Officer Buckle is a stickler for safety. He worries aout everything that you shouldn't do. When he comes up with a safety tip he writes it down and then shares it with people. In the book, we see him go to the school where the children are bored out of their minds. Then one day Officer Buckle gets Gloria; his new partner. When Gloria starts to go with Officer Buckle to talk with students, they are fascinated by his presentation. Officer Buckle becomes very popular; he is busy beyond belief with presenting his safety tips. He had no idea that Gloria was behind him performing tricks: standing on her head, sitting up straight, doing flips. This story is all about the friendship that develops between Officer Buckle and Gloria. They become a pair that is inseparable throughout the book. Then one day, Officer Buckle figures out that the only reason he has become popular is Gloria; that people still did not care about his safety tips. This hurts him and is no longer Gloria's partner; but he misses her. This story teaches the importance of friendship, companionship, and what it means to be a good friend."
"I absolutely loved reading this book because the illustrations did a fantastic job of showing what was actually happening during the safety speeches. Although the text did not mention what Gloria the dog was doing behind Officer Buckle while he told his safety tips, it showed everything she was doing! While the text told us how the children laughed during the speech, the pictures showed us how the Officer had no idea what was going on behind him, providing a silly image. Without the pictures of Gloria doing the tricks the book wouldn't really make sense at all because why would the children be hooting and hollering at Officer Buckle's safety tips unless something funny was going on behind him? I loved how the text and the pictures shared a dual purpose in telling the story and I believe this book definitely deserved the Caldecott award. I would recommend using this book in a kindergarten to second grade classroom because it teaches a few safety tips while also providing a comedic story about a dog with a sense of humor."
Click here to read the original reviews
Related products