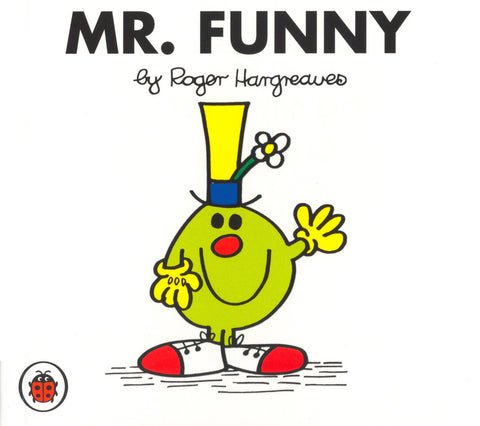 Mr. Funny by Roger Hargreaves (Paperback) Mr. Men and Little Miss
Mr Funny loves to cheer everyone up with his jokes and humour.
*Despite our best efforts to predict the demand for books, the magical spells we use sometimes fail us. So to check if we have the book in-stock before you place your order, contact us at 6702 2452 or drop us an email at myimaginationkingdom@gmail.com
Reading Level: 6+
Reviews:
"My 4 year old son and I, just had a blast reading this for our bedtime story. We laughed more than the Zoo animals. :)"
"A tried and tested pre-home time favourite, especially for the Early Years. From the timeless collection by Roger Hargreaves, 'Mr Funny' is just one of the superb Mr Men books which pupils cannot get enough of.
The protagonist certainly lives up to his name, as one of the silliest Mr Men characters by definition; his antics will certainly have pupils in stitches. Mr Funny operates in a hilariously ridiculous way, with his breakfast of a "daisy sandwich" and "glass of toast" and his shoe-shaped car, much to the amusement of all the animals and even flowers around him. Yet, he is a loveable character and his humorous nature is much appreciated when he cheers up all the depressed zoo animals with his outrageously funny faces, so wonderfully illustrated alongside the story.

The story is also educational in that it nicely recaps characteristics of different real life animals through both descriptions and illustrations.

Overall, a great carpet time story which inevitably leaves pupils excitedly asking which Mr Men story will be read next time."

Click here for the original reviews
Related products