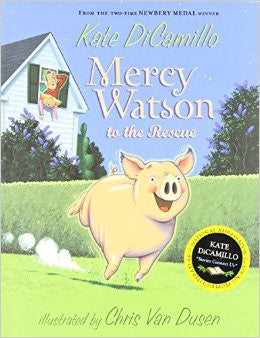 Mercy Watson to the Rescue Mercy Watson #1 by Kate DiCamillo (Paperback)
From the one and only Kate DiCamillo comes an irresistible new hero for early chapter book readers, brightly captured with comic nostalgic flair by Chris Van Dusen.

To Mr. and Mrs. Watson, Mercy is not just a pig — she's a porcine wonder. And to the portly and good-natured Mercy, the Watsons are an excellent source of buttered toast, not to mention that buttery-toasty feeling she gets when she snuggles into bed with them. This is not, however, so good for the Watsons' bed. BOOM! CRACK! As the bed and its occupants slowly sink through the floor, Mercy escapes in a flash — "to alert the fire department," her owners assure themselves. But could Mercy possibly have another emergency in mind — like a sudden craving for their neighbors' sugar cookies? Welcome to the wry and endearing world of Mercy Watson — an ebullient new character for early chapter-book readers in a series that's destined to be a classic.
*Despite our best efforts to predict the demand for books, the magical spells we use sometimes fail us. So to check if we have the book in-stock before you place your order, contact us at 6702 2452 or drop us an email at myimaginationkingdom@gmail.com
Reading Level: 6+
Reviews:
"Mercy Watson is a "porcine wonder," according to her human parents. Mr. and Mrs. Watson love their pig, Mercy, as if she were an only child. Mrs. Watson even dreams (happily) about fixing Mercy her favorite food: hot buttered toast. So when Mercy's desire to sleep with Mr. and Mrs. Watson puts all three of them in peril, the Watsons believe that Mercy's escape is an attempt to find help.

Mercy Watson to the Rescue is a funny story about parents who think only the best about their children (porcine, in this case). The humor is accentuated by the fact that readers know both what the Watsons believe Mercy's intentions to be and what Mercy is actually thinking (hot buttered toast, always). The Mercy Watson series is an excellent transition between easy readers and chapter books. Like easy readers, it has a large font and pictures that give clues about the text. However, the vocabulary is more challenging than that of the earliest readers, there are some compound sentences, and it includes some difficult words (disappointment, unbelievable), as well as some that would not be in a child's everyday vocabulary (porcine, snuffled, recalled). Recommended for ages 6-8."
"DiCamillo creates an entertaining story that is both fun and very easy to read. This book is perfect for a child that is looking for a book after picture books and before picture-less chapter books. The pages have no more than 13 lines. Most sentences contain 4-7 words, giving the reader's eyes plenty of time to rest. The story is episodic yet fluid enough to move the story. The cartoon-like pictures help to give the story some depth and provide a light hearted feel that makes the Mercy Watson books a delight. " 
Click here for the original reviews
Related products