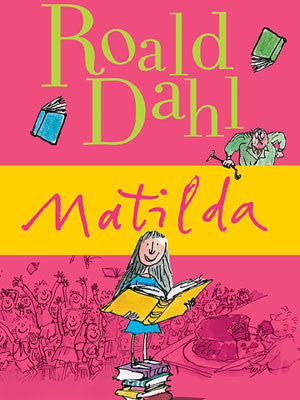 Matilda by Roald Dahl (Paperback)
Matilda is a little girl who is far too good to be true. At age five-and-a-half she's knocking off double-digit multiplication problems and blitz-reading Dickens. Even more remarkably, her classmates love her even though she's a super-nerd and the teacher's pet. But everything is not perfect in Matilda's world. For starters she has two of the most idiotic, self-centered parents who ever lived. Then there's the large, busty nightmare of a school principal, Mrs. ("The") Trunchbull, a former hammer-throwing champion who flings children at will and is approximately as sympathetic as a bulldozer. Fortunately for Matilda, she has the inner resources to deal with such annoyances: astonishing intelligence, saintly patience, and an innate predilection for revenge.

She warms up with some practical jokes aimed at her hapless parents, but the true test comes when she rallies in defense of her teacher, the sweet Miss Honey, against the diabolical Trunchbull. There is never any doubt that Matilda will carry the day. Even so, this wonderful story is far from predictable. Roald Dahl, while keeping the plot moving imaginatively, also has an unerring ear for emotional truth. The reader cares about Matilda because in addition to all her other gifts, she has real feelings.
*Despite our best efforts to predict the demand for books, the magical spells we use sometimes fail us. So to check if we have the book in-stock before you place your order, contact us at 6702 2452 or drop us an email at myimaginationkingdom@gmail.com
Reading Level: 8-9
Reviews:
"Oh Roald Dahl, you make my life complete. Matilda is one of those books for me. One of the books in my bookshelf, tattered and worn, pages falling out, that I will always go back to, no matter what the occasion. Dear, darling Miss Honey, Matilda's first grade teacher, is ever child's dream, and now that I'm older, every adult's dream as well. Miss Honey lives in a two room cottage with no running water, a camp stove, and wooden boxes for seats. She eats margarine instead of butter! Would that we all could be so jolly under such circumstances, and still be able to stick it to the man- the man in this case being Miss Trunchbull, the evil (truly) headmistress and incidentally, Miss Honey's aunt. I used to dream of being so smart that I could lift cigars with my mind. But now I dream of being able to influence just one little girl's life for the better. Thank you, Mr. Dahl."
"This is a funny yet heartfelt moving story about a small girl who comes from a hellish family but shows a tender heart and an optimistic personality. Very inspiring! While reading this, I can't stop thinking I wish I had a brain like her especially the ability to read all those great novels in a very early age. Unlike Matilda, my mom was the one doing the reading job when I was 5 years old...LOL! Every one should read this no matter what age…"
Click here for the original reviews
Related products