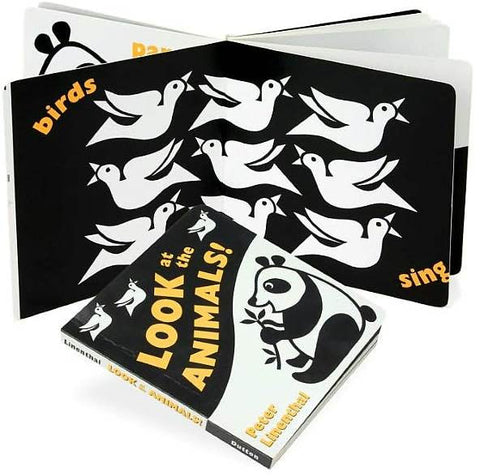 Look at the Animals by Peter Linenthal (Board Book)
Birds sing, zebras run, and whales spout in this delightful follow-up to Look Look!, which has sold nearly 50,000 copies. Bold, black-and-white illustrations offer the clean shapes and strong contrasts best suited to young babies' developing minds.The warm, simple text makes this a perfect first book for sharing with a little one who's just beginning to look and learn. An ideal shower gift that's sure to become a favorite with baby.
*Despite our best efforts to predict the demand for books, the magical spells we use sometimes fail us. So to check if we have the book in-stock before you place your order, contact us at 6702 2452 or drop us an email at myimaginationkingdom@gmail.com
Reading Level: 0+
Reviews:
"My baby couldn't put it down! Literally! I've bought a lot of picture books for my 5-month-old, such as "White on Black" and "Black on White." He likes them all, but his favorite was always "Look! Look!" by Peter Linenthal. Whenever I would get that book out, my boy would kick frantically with anticipation and stare raptly at each picture. Of course, when I found out there was a new Linenthal book, I had to get it. As soon as he first saw the cover of the book, my normally self-contained baby became nearly hysterical with excitement. I could barely read it because he was grabbing at the pages, kicking, and squealing. I hastily concluded my storytime when my son forcefully wrenched the book away from me and jammed the spine into his mouth for a more all-encompassing literary experience.

Linenthal's images are high-contrast black and white, with bold graphic lines, many circles and spirals, and frequent mirror images. My baby finds his art eye-poppingly enthralling and worth returning to again and again. Or, as my son puts it, "aaaaiiiiEEEEEEEEEEEEE!!!" (Translation: "5 stars! A treat for the eye *and* the palate!")"

"i borrowed this book from the library and my 8 month old loved it. i felt we had to buy it. i do different animal sounds for each picture and he is now anticipating the action. he is now 10 months old and this is his favorite book. i just have to hold it up and he comes right over to look."

Click here for the original reviews
Related products